Sinevibes Stator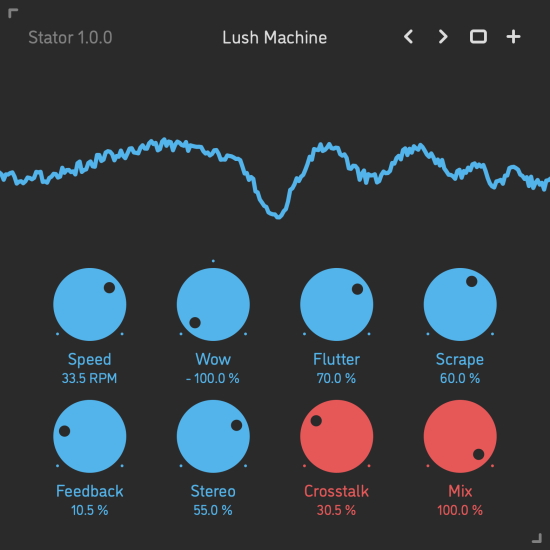 Sinevibes has released Stator, a tape wobble simulator plugin for Mac and Windows. This creative effect models multiple different speed fluctuation sources in cassette tape players including wow, flutter, and scrape flutter - as well as stereo widening and crosstalk phasing. The plugin is available in AAX, AU and VST3 formats.
Stator is a tape wobble simulator. It uses a creative approach to replicate the effects of speed fluctuations in tape machines: wow and flutter coming from uneven electric motor rotation and tape feed, as well as scrape flutter caused by the friction of the tape against the tape head. The result is a complex speed modulation signal that produces a wide variety of pitch drift and lo-fi jitter effects – similar to the sound of worn-out, unstable audio and video cassette players. Stator also employs individual stereo widening formulas in each of its three modulation components, plus it has variable channel crosstalk for adding chorusing and phasing artifacts – and creating sounds with a truly beautiful vintage vibe.
Combination of 13 fine-tuned DSP algorithms for simulating tape machine speed wobble
Separate modulation depth adjustment for pitch wow, flutter, and scrape flutter
Variable stereo phase offset with individual calibration for each modulation source
Variable stereo crosstalk for chorusing and phasing artifacts
Built-in adjustable feedback loop for additional sound coloration
Stator is immediately available for $29. It works with macOS 10.9 or later and with Windows 8.1 or later, and is provided in 64-bit AAX , AU and VST3 plugin formats.