Studiomaster INSTACUBE 4 & 8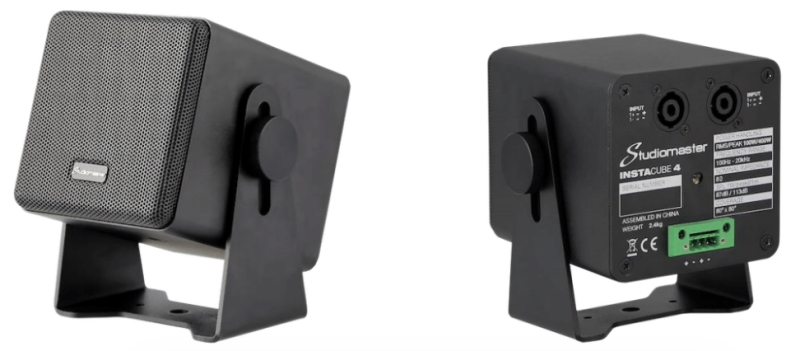 Studiomaster INSTACUBE 4
With the launch of its INSTACUBE 4 / INSTASUB 8, Studiomaster introduces a dedicated ultra-low profile, high performance, commercial audio loudspeaker system to its professional loudspeaker catalogue.
The miniature INSTACUBE 4 aluminium enclosure, measures just 145 x 156 x 143 mm, complete with its removable mounting U-bracket. With a custom designed 4" neodymium, 2-way coaxial loudspeaker, comprising a 35 mm voice coil MF and 1.3" PEEK high-performance composite film diaphragm HF driver arrangement, the INSTACUBE 4 boasts 100 W rms / 400 W peak power handling, up to 87dB continuous SPL output, and a 100 Hz – 20 kHz (-10 dB) frequency response.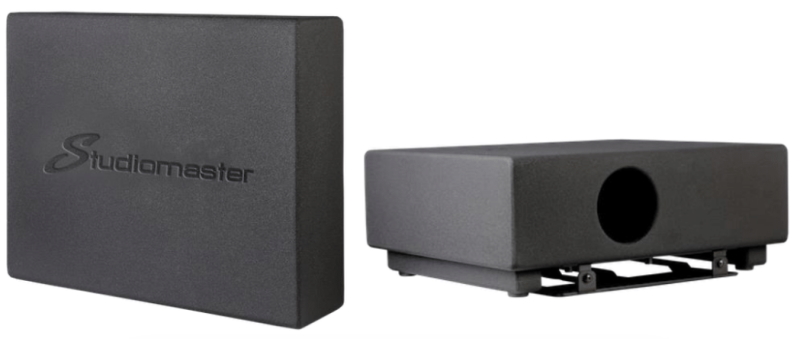 Studiomaster INSTACUBE 8
The ultra-slim INSTASUB 8 bass reflex compact subwoofer is ceiling, wall or floor mountable, and can be positioned under furniture. Although measuring just 515mm x 200mm x 425mm, the sub features a custom design 8" loudspeaker. With a 38 mm high temperature resistant voice coil, the long-stroke driver also features a unique aluminium modulation ring that reduces magnetic distortion, further contributing to up to 200 watts of very high quality deep bass.
Studiomaster General Manager Patrick Almond, commenting on the introduction of the INSTACUBE 4 / INSTASUB 8 combination, stated, "In extending our loudspeaker offering into the dedicated commercial audio segment, we have come to the market with a system highly representative of our brand values of highly competitive cost-performance ratios, and levels of design and build quality Studiomaster distributors and dealers have long come to know and trust. The product design is one of high performance and efficiency, with exceptional ease of deployment and operation; lowering the barriers to achieving effective BGM and AV audio coverage in a wide breadth of application environments."