Nembrini Audio Cali Axis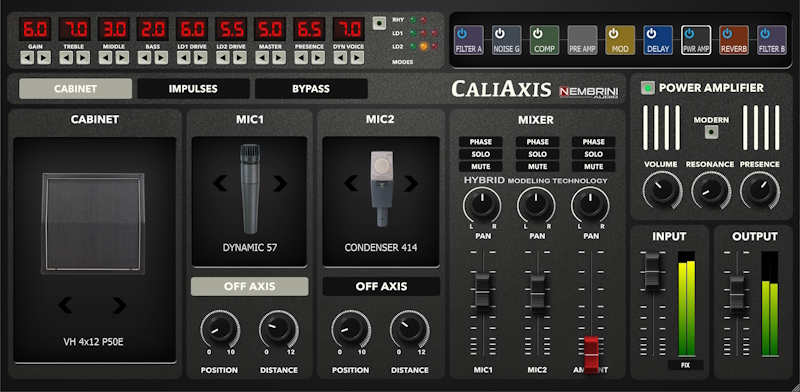 Nembrini Audio introduces the Cali Axis guitar amplifier plugin, an arsenal of the most powerful guitar tones. Based on the renowned Mesa Boogie TriAxis preamplifier, the new Cali Axis plugin dishes up plenty of vintage Boogie tone; great for searing solos, fabulous fluty leads, prog metal rhythms and bluesy jams. The plugin delivers the elusive creamy gains of the MKI, the tighter, more focused sound of the MKII and the scooped rhythm of the MKIV. John Petrucci and both James Hetfield and Kirk Hammett of the Metallica used this legendary preamplifier.
Power amplifier powered by four EL34 virtual tubes, with presence, resonance, volume and power, the Cali Axis plugin puts the classic sounds of the Mesa Boogie amp at the fingertips of all guitarists. The plugin also extends the possibilities of the original hardware: It offers users six exciting guitar effects, six carefully selected cabinet emulations, four of the best mic emulations with selectable positions and a powerful impulse loader which enables users to load their favourite IRs. Cali Axis is compatible with Intel, Apple Silicon CPU 1GB RAM, MAC OS 10.9 or newer, Windows 7 or newer and 64-bit DAW.
The new Cali Axis plugin is available at a special introductory prices of $29.99 (regular price $137) for the desktop version and $9.99 (regular price $19.99) for iOS.