Recording Academy Producers & Engineers Wing Supports Audio Community
Pictures: Recording Academy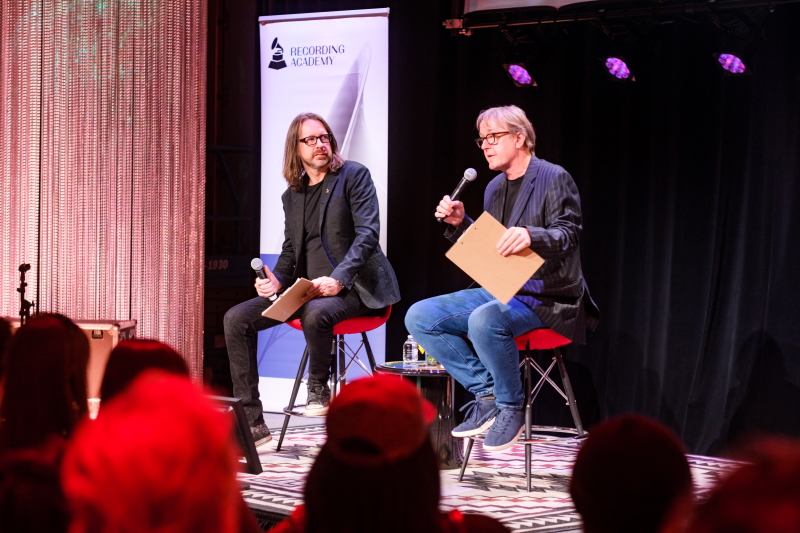 L-R: Chris Bell, Michael Romanowski
Balancing the new normal of online discussions with the return of in-person events, the Recording Academy Producers & Engineers Wing has built on the momentum from a busy 2022 with programming that demonstrates the scope of the organization's outreach, advocacy, enhancement, and education initiatives for its membership and the audio community as a whole.
In fall 2022, the P&E Wing sponsored several informative seminars, some of which are now archived for viewing. "Producer Panel: Take Your Workflow to the Next Level! Best Practices for File Management" was streamed in October as part of MixCon 2022. The conversation featured insights from producer/educators Jeff Balding (Dan + Shay, Morgan Wallen, Bailey Zimmerman), Matt Hennessy (Beyoncé, DMX, PJ Morton), George Massenburg (Earth, Wind & Fire; Natasha Bedingfield; the Chicks; associate professor of sound recording and director of video production at McGill University), Leslie Richter (Ben Folds, George Strait, Kacey Musgraves, instructor of audio engineering at Belmont University), and Paul "Willie Green" Womack (Wiz Khalifa, The Alchemist, the Roots, vice chair of New York AES section). The session is available for viewing at https://youtu.be/FCt7nhWueEQ.
Additionally, the P&E Wing co-presented a series of six webinar sessions with Dolby Laboratories, Inc., titled "Inside the Mix," a special engagement of the Dolby Atmos Music Master Class series. The episodes, streamed live for P&E Wing members, featured experts from Dolby covering everything from room configurations and tuning to metadata for immersive audio, along with a live Q&A with producers and engineers working with Dolby Atmos technology. Each episode was introduced by Maureen Droney, Vice President of the Producers & Engineers Wing, and Christine Thomas, Dolby Laboratories head of music partnerships, and moderated by four-time GRAMMY Award-winning engineer Michael Romanowski. The series is now archived and available here. Also part of the "Inside the Mix" series, a separate earlier session offered the perfect primer on immersive audio: "Prelude: Immersive Audio 101," featuring immersive savvy engineering luminaries Jimmy Douglass, Leslie Ann Jones, Michael Piacentini, and Darcy Proper, hosted by Brian "BT" Gibbs, now available at here.


L-R: Mike Piacentini, Brian (BT) Gibbs and Jimmy Douglass; bottom row: Darcy Proper, Leslie Ann Jones
Also in October, the annual Audio Engineering Society convention in New York felt like a return to old times, with audio professionals from around the world gathering in Manhattan for three days of education, networking and checking in with top brands, with a number of appearances by prominent P&E Wing members. The Wing also hosted a "Women In The Mix®" social on the Javits Center show floor, and a good time was had by all with remarks from Erin Barra-Jean (Beats by Girlz), Hilary Roschke (RISE), Emily Lazar (We Are Moving The Needle), Jasmine Kok (She Knows Tech), Susan Rogers, and Leslie Ann Jones. The event culminated with a toast to, and remarks by, Terri Winston, founder of Women's Audio Mission, which is celebrating its 20th anniversary in 2023.
The Recording Academy Texas Chapter held an "Immersive Audio Creator Summit" in Austin on Oct. 26, hosted by Studios At Fischer. The event featured a studio tour and a conversation with two-time Best Immersive Audio Album GRAMMY winner Michael Romanowski, moderated by Texas P&E Committee Chair Chris Bell. A second panel, from the Academy's Songwriters & Composers Wing, delved into best practices for crediting, featuring Lindsey Major, head of customer experience at The Mechanical Licensing Collective (The MLC), moderated by music publisher Carlos Alvarez. This event was in partnership with JBL Harman, BMI, The MLC, and Rupert Neve Designs.
On Dec. 8, the Academy's Atlanta Chapter hosted an event comprising Songwriting Sessions and Bring Your Beats Workshops with three dream teams of cross-genre music creators. Each team included a special invitee: a music creator with a disability. Talent was high throughout the day as teams collaborated, wrote and recorded new music. Creators included Tricky Stewart, Bryan Michael Cox, Ben Holst, Prisca Strother, Micah Dalton, Diane Durrett, Ed Roland, Chris Henderson, Chantae Cann, and special guests QuestionATL, Jay aka Mini Producer and Joey Stuckey. That evening, the studio doors opened for Atlanta's overall P&E and S&C members, along with the ATL Chapter Board, for a mixer and studio tours. Many new friends were made as invitees toured the facility and listened to the music each group had made that day.
Early 2023 saw the revival of a longstanding P&E Wing tradition, but one that had been on hiatus for two years: the annual GRAMMY Week celebration at The Village Studios in West Los Angeles, held this year on Wed, Feb. 1, just days before the 65th Annual GRAMMY Awards. This year's gathering featured the presentation of the Recording Academy's CEO Merit Award to innovative drummer, producer and three-time GRAMMY winner Terri Lyne Carrington and revered classical producer and 14-time GRAMMY winner Judith Sherman. The event also acknowledges the overall industry contributions of the members of the Producers & Engineers Wing. Music industry luminaries and GRAMMY nominees and winners packed this star-studded evening, including Chuck Ainlay (P&E Wing Co-Chair), Peter Asher, Bob Clearmountain, Stewart Copeland, Jimmy Douglass, Robert Glasper, J. Ivy, Linden Jay, DJ Khalil, Lisa Loeb, Chris Lord-Alge, PJ Morton, Olivia Rodrigo, Rafa Sardina, and a host of others.
GRAMMY night, Feb. 5, 2023, saw the reinstatement of another longstanding P&E Wing tradition: just minutes before the ceremony, members of the broadcast's 2023 audio team gathered for a photo at the foot of the stage at Crypto.com Arena in Los Angeles. The 65th Annual GRAMMY Awards showcased an amazing collection of musical performances and tributes and utilized the latest in technology to provide television viewers worldwide with cutting-edge, high-definition immersive sound. The GRAMMY Awards technical staff consists of audio pioneers who continually strive to employ the latest in technology to enhance the show. Prominent members of the Recording Academy Producers & Engineers Wing were part of the audio team and included GRAMMY Audio Producer Michael Abbott, GRAMMY Broadcast Production Mix Audio Advisor Mike Clink, GRAMMY Broadcast House Mix Audio Advisor Leslie Ann Jones, GRAMMY Broadcast Music Mix Audio Advisor Glenn Lorbecki, GRAMMY Co-Broadcast Music Mixer Eric Schilling and several others.
The next morning saw the P&E Wing's annual post-GRAMMYs Advisory Council meeting in downtown LA. This year's gathering was a full house, and discussion topics included immersive audio and artificial intelligence.
On March 23 in Los Angeles, LA P&E Wing members were privileged to meet with Shira Perlmutter (the U.S. Register of Copyrights/Head of the U.S. Copyright Office) and Suzanne "Suzy" Wilson (General Counsel and Associate Register of Copyrights). Hosted by Recording Academy CEO Harvey Mason jr. and Acting Chief of Advocacy and Public Policy Todd Dupler, this gathering was a unique opportunity for Register Perlmutter to connect directly with members of the creative community affected by the policies and decisions made every day by the U.S. Copyright office. She was especially interested in copyright issues such as artificial intelligence and accurate recording metadata. Representing LA members were P&E Wing Chapter Committee Chairs Alana Da Fonseca and Josh Gudwin, along with Michael Graves, Emerson Mancini, and LA Chapter Executive Director Qiana Conley.
"The P&E Wing is as engaged as ever, and now we have opportunities to explore the best of both worlds – face-to-face gatherings for a more personalized connection, and streamed online discussions, which are available to everyone and easily archived," remarked Maureen Droney, Vice President of the Recording Academy Producers & Engineers Wing. "We look forward to maintaining both of these approaches through the rest of 2023 and beyond."