Arturia MicroFreak Upgrade & Stellar Limited Edition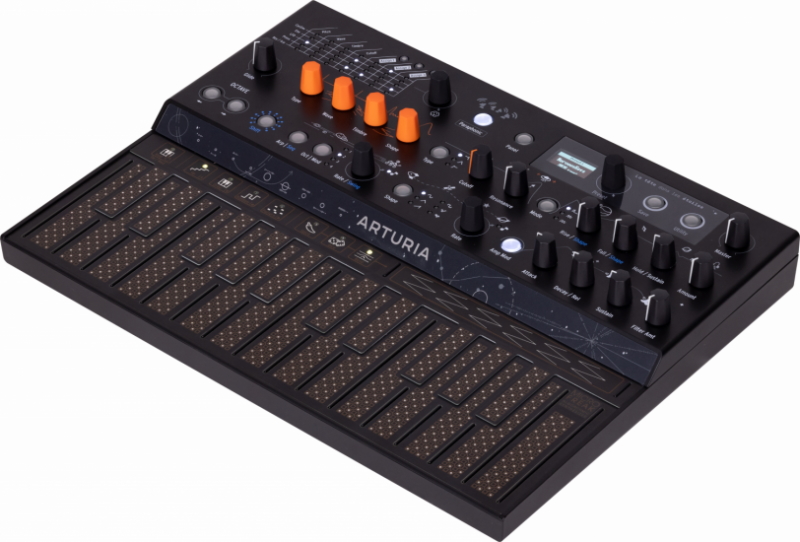 A sleek all-black exterior and unique space-age design primes this hybrid beast for an interplanetary sonic voyage - and you're invited. Discover MicroFreak Stellar Limited Edition now, exclusively at dealers.
Just when you thought you'd seen it all, MicroFreak evolves once more. The V5 firmware introduces user sample importing, a sample playback engine, 3 new granular engines, enhanced envelopes, and more - for free. Since its release in 2019, MicroFreak has undergone transformation after transformation; new engines, a built-in vocoder mode, a collaboration with Noise Engineering, and more. Firmware V5 is the next step in MicroFreak's journey - discover it for yourself today.
What's new?
Sample Import & Playback: Import your own samples, play them back, and loop them for classic sampled textures.
Granular Engines: 3 granular engines for wild manipulation of your imported samples.
Keyboard Random Source: You can now transform your keyboard into a S&H-style modulation source.
Snappy Envelopes: Enjoy even shorter attack values with MicroFreak's envelopes.
More Presets: MicroFreak now has 512 preset slots with over 300 factory presets.
Please note: the MicroFreak V5 firmware will be available from May 30th at 5PM CET.