Neutrik Group at ISE 2023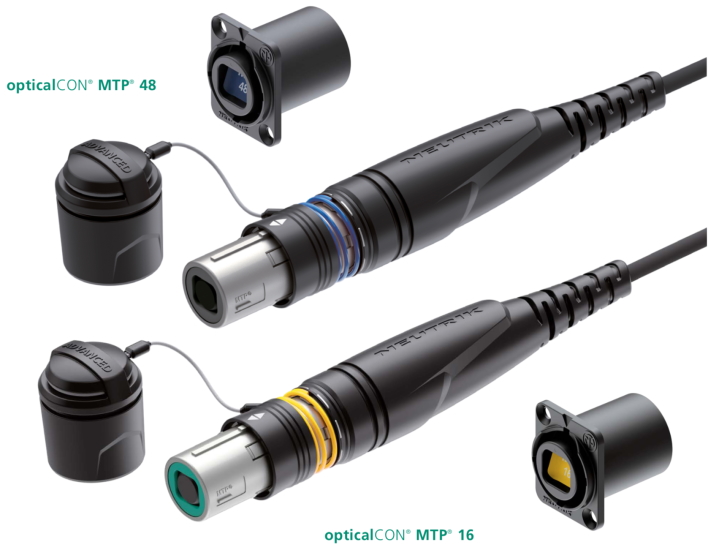 The Neutrik Group develops, designs, manufactures, and globally distributes innovative electrical and electronic interconnect products and systems under the NEUTRIK, CONTRIK and REAN brands. Widely recognized across the world of professional entertainment and media production, and in many wider industrial application environments, it is a global leader in audio, video, power, and data connectors, digital components, and power distribution systems, innovating new solutions and setting new standards.
Among a wide range of products being shown at ISE for the first time are new audio, data and power connector series from NEUTRIK and REAN, and a portfolio of power distribution products from CONTRIK.
NEUTRIK's signature speakON series of audio connectors expends still further with the introduction of the new speakON NL4FXX & NL2FXX 4-pole and 2-pole cable connectors. These new connectors feature a locking boot to protect against unintended opening, together with a unique two-compound housing to improve handling in daily operation. The connectors are easier and smoother to assemble, as the strain relief chuck snaps to the insert.
The new powerCON NAC3FXXA & NAC3FXXB cable connectors are colour coded blue – for power IN – and grey – for power OUT. These conform to relevant device standards, including IEC62368-1, IEC60799 and UL817, and safety regulations that require power mains supply connectors to comply with IEC/EN/UL/CSA 60320-1. Together with the powerCON TRUE1 TOP these new connectors make NEUTRIK the only supplier of fully 60320-1 compliant power connectors covering the range of 6mm to 16mm cable O.D. and wire gauges of AWG12 to AWG16 respectively 2.5mm² to 1.5mm².
NEUTRIK is also extending its opticalCON ADVANCED fiber portfolio with new MTP high speed, high capacity connectivity systems, creating a standard solution for point-to-point connections in pro AV and broadcast applications.
Two new additions to the series are the singlemode opticalCON MTP 16, and the multimode MTP 48; respectively offering 16 data channels and 48 data channels in a single cable. These systems provide for high data capacity with high reliability, rapid setup, immediate playback, and cost optimization per single fiber / data channel, while operating in the harshest conditions and most challenging applications.
A standard D-shape cutout for simple integration, reliable push/pull locking mechanism, automatic sealing shutter, NEUTRIK's proven anti-kink boot design, and a an exceptionally small form factor are outstanding features of the lightweight, rugged housing. Compatibility with NEUTRIK's FOCD-STC and FOCD-STM cleaning devices ensures ease of maintenance in the field.
Other new innovative product highlights include the NEUTRIK FIBERFOX HMA fiber optic connector system. Terminated with LC patch connectors, FIBERFOX uniquely converts a standardized LC patch cable into an expanded beam solution. This allows for maintenance and repair onsite by the user, with replacement chassis to board connections clipped in place with simple manual connection of common LC patch cords. FIBERFOX products include briDge connectors and pre-assembled cables, a weather-proofed 'Adaptor Box' with several connectivity variants; and the latest foxBRID multimode hermaphroditic connector module and FIBERFOX Rotary joint, suited to an extensive array of industrial applications.
The CONTRIK range of professional portable power distribution systems and premium-quality power cables are also being shown for the first time at ISE. The range is designed and precision manufactured in the EU for use in indoor and outdoor all-weather event, touring and mobile production applications, with unsurpassed levels of quality, safety and reliability. A wide range of certification standards guarantees high levels of mechanical (IK) and environmental (IP) protection. CONTRIK's unique Easylen® housing material provides high levels of flame retardancy, temperature resistance, UV protection, corrosion insensitivity, non-conductivity, and protection from mechanical impact.
The range of new products includes the CONTRIK Active Power Container, Power Racks and Power Turtle distribution boxes – with circuit breakers – passive power distribution turtles, and Power Multicore Cables.
REAN will be showing its new Power X Series ruggedized power connectors. Molded from V0 raw materials and rated to UL 94V-0, the IP65 certified Power X Series provides high levels of fire retardant, dust and moisture resistant protection. Power X Series components are certified according to EN/UL 60320-1, with the cable connectors accepted as a component for cord sets according to IEC 60799, ensuring true mains breaking capability. Power X Series is also certified as fully compatible with NEUTRIK powerCON True1.