Gamechanger Audio MOTOR Synth MKII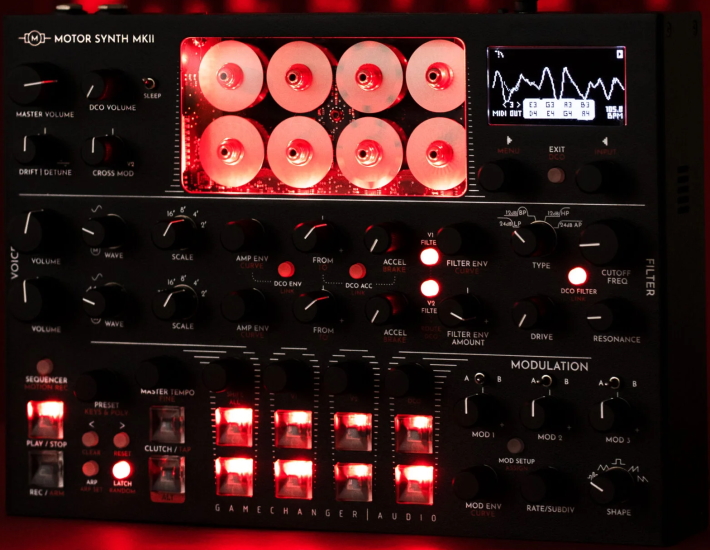 Gamechanger Audio first announced the groundbreaking MOTOR Synth concept back in 2019, and the electro-motorised instrument was brought to life the following year via a large public crowdfunding campaign endorsed by the likes of Richard Devine and even Jean Michele Jarre himself. After shipping the first batches and receiving feedback from users the Latvian team of engineers have been busy introducing a multitude of significant upgrades to the original MOTOR Synth design.
The MOTOR Synth MKII features:
A re-engineered MOTOR Voice block with custom-built brushless electromotors and carefully designed acoustic treatment materials ensuring a significant reduction in mechanical noise
Two MOTOR Voices with full independent control over Amp Envelope, Pitch Envelope and Analog multi-mode Filters
Three fully assignable Modulators with independent clock sources and two Mod destinations each
An added Digital Oscillator Voice with extensive waveshaping capabilities & noise engine + fully independent Amp Envelope, Pitch Envelope and its own Digital Filter
New performance functions, such as Amp, Pitch and Envelope LINK & UNLINK, Filter LINK, UNLINK & OFFSET, as well as the innovative CLUTCH Key
Fully redesigned comprehensive Arp and Sequencer Engines with Voice Assign, as well as a powerful Motion Record engine with 8 editable Rec Lanes
Extensive Input Signal Processing capabilities: VOCODER Engine, GATE, SIDECHAINING, FILTERING
Motor Synth MKII is available in limited quantity at 3,299 USD / 2,726 EUR.