Erica Synths SYNTRX II and LXR Eurorack Module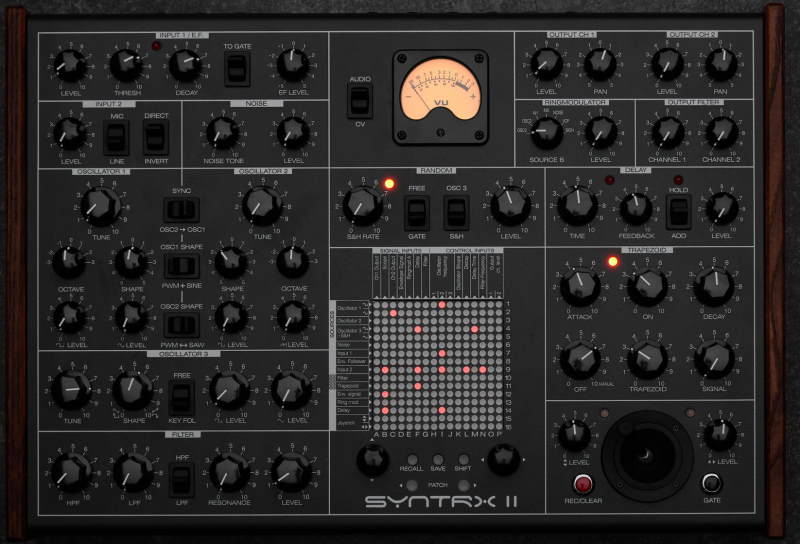 Erica Synths SYNTRX II
Peter Zinovieff himself approved our re-imagination of his legendary Synthi AKS in the form of the SYNTRX which was produced in a limited run of 1056 units. Based on lessons learned from the SYNTRX, we decided to create an instrument which would integrate even deeper into contemporary electronic and experimental music setups and cover sonic territory from daunting drones to powerful basslines and glitched noisescapes. The SYNTRX II is the culmination of our analogue sound design circuits – two perfectly stable main oscillators with waveshapers, a versatile multimode filter, supercharged external instrument inputs with an envelope follower, a unique, great sounding ringmodulator, a recordable joystick and built in piano roll sequencer, all arranged around our signature matrix mixer and topped off with powerful FX on our new DSP platform. Introducing The SYNTRX II - a new dark horse for experimental sonic rides.
Features:
Two perfectly stable main oscillators with CV controlled waveforms
Modulation oscillator with variable waveforms
Highpass and Lowpass filters in series
Free running or gate synced sample and hold circuit
Multi-colour noise generator
DC coupled instrument inputs with signal inversion and envelope follower
Ringmodulator of unique design
Looping trapezoid envelope generator and VCA
Two output VCAs
Signal meter with a dedicated audio/CV output
FX section with great sounding Delay and Reverb
Recordable Joystick Analogue patch matrix with 3 attenuation levels in each patch point
254 patch memory
Piano roll sequencer
Two CV inputs
Gate input
DIN5 MIDI Input (CV and Gate) and MIDI Thru
Two assignable outputs
Headphone output
Available summer 22'
LXR Eurorack Module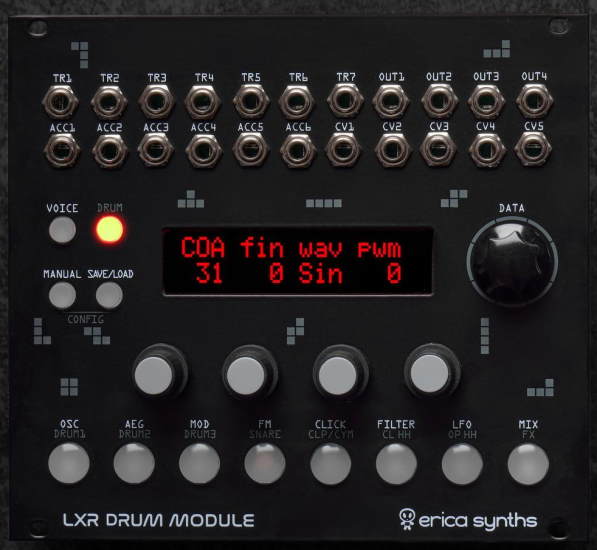 The LXR-02, a fully-fledged digital drum machine with an integrated sequencer by Sonic Potions and Erica Synths, was launched less than a year ago and it quickly gained instant recognition among sound designers and preforming musicians. Due to the popularity of this design, we decided to create a a compact and great-sounding eurorack module based on the sound engine of the LXR-02. While retaining the core interface of the LXR-02, this module adds the essential eurorack ingredient - assignable CV control over parameters. Introducing the LXR eurorack module - a digital percussion and bassline powerhouse for your rack!
Features:
6 drum/percussion voices
3 voices can be used as basslines
Powerful sound design engine
Over 30 adjustable parameters per voice
5 assignable CV inputs with 1V/Oct tracking
Insert FX section
4 assignable outputs
Kit memory
SD card for Kit exchange and easy FW updates
Kits compatible with the LXR-02
Module width - 28 HP
Available summer 22'