Tone2 Nemesis v2.1/v2.2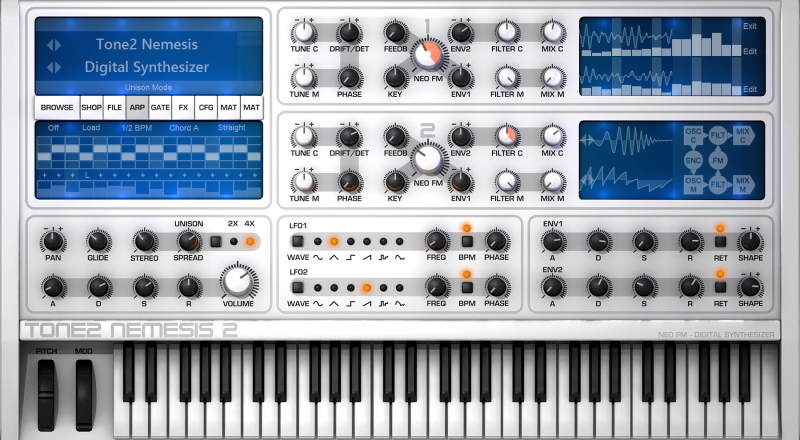 Tone2 Audio has updated the PC and the Mac version of their digital synthesizer Nemesis to v2.1/v2.2. The udpates are major updates, which are available for free. They add a VST3 version for PC, native Apple M1 ARM support, many enhancements and new features.
New features:
Added a VST3 version for PC.
You can select from 3 different installation types: Minimal (VST2 only), Default (VST2 + Standalone) and Full (VST2 + VST3 + Standalone).
Added a Microsoft-approved certificate to the installer.
HiDPI support for the VST3 version.
AudioUnit version supports M1 native.
VSTi version supports M1 native.
Help->'Show version info' displays the mode in which the plugin is running (ARM/Intel).
Enhancements:
Higher sound-quality in 44 kHz, 48 kHz and 88 kHz sample-rate.
More precise timing.
New microtuning algorithm that detects and enhances a wide range of chords.
More smart detection of the VST2 path.
Slightly higher performance.
More robustness.
Further optimisation to prevent denormalisation.
Much faster loading times on M1 Macs.
The native M1 support results in 20% lower CPU use compared to Rosetta2 Mode.
More responsive GUI on M1 Macs.
Several small enhancements.
Fixes:
Resynthesis of waveforms did not work as expected.
M1 Macs did not update the GUI properly when the selector-button for the LFO type was pressed.
Coordinates of the knob-contextmenu were incorrect when the large GUI was used.
Tooltips did not work with Dark Mode with Big Sur.
Big Sur could show an incorrect mouse-pointer.
Workaround for the 'unusual' designed audio architecture of FL Studio. It is not longer necessary to enable 'Use fixed size buffers' to avoid crackles.
Workaround for a bug of Big Sur where new AudioUnits are only detected after a reboot.
Fixed a rarely appearing crash.
Changes:
Updated some links.
AudioUnit is now an AUv2 plugin.
AudioUnit and VSTi are now a Universal Binary for Intel and M1.
Minimum MacOS version is now 10.11. If you still use an older version you must stick with Nemesis v2.1.