Nembrini Audio Hivolt 103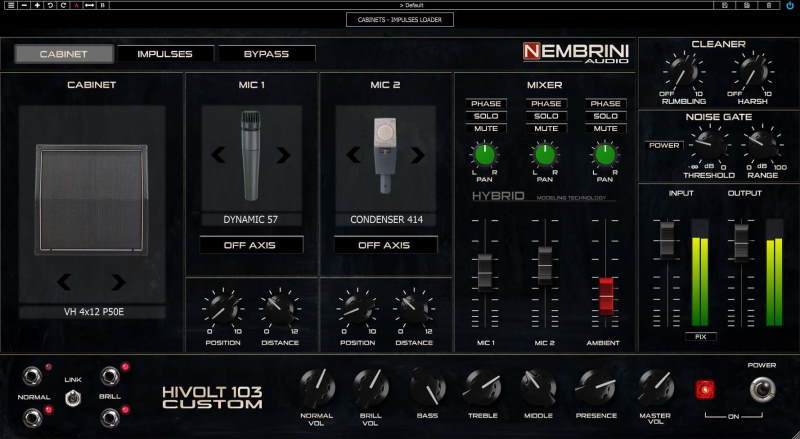 Nembrini Audio, producers of music software for modern musicians, adds the Hivolt 103 Custom Guitar Amplifier Plugin to its growing array of award winning audio production software. To hear the new plugin listen here and watch the video trailer here.
The Hivolt 103 Custom Guitar Amplifier plugin is based on the 1970's vintage Hiwatt* DR103 with original Partridge* transformer and point to point wiring. The epitome of clean, lush, classic British tone, this amp was loud, punchy and rich. The ordered harmonics and distinctive tones of this amplifier were prized by many 70's musicians including Pink Floyd's David Gilmour and more recently the Foo Fighters.
The new plugin offers users a choice of six different guitar cabinets and four microphone emulations. The guitar cabinet simulations are based on the VHT* 412S 4 x 12 with Eminence* P50E speakers, Mesa Boogie*Rectifier 4 x 12 with Celestion* Vintage 30 speakers, Orange* 4 x 12 with Celestion* Vintage 30 speakers, Marshall* 1960A 4 x 12 with Celestion* G12M-20W Greenback speakers, Marshall* 1960B 4 x 12 with Celestion* G12T-75W speakers and the Bogner 2 x 12 Celestion* Vintage 30 speakers. The microphone recreations are based on the Shure* SM-57 dynamic mic, Royer Labs* R-121 ribbon mic, AKG* C 414 condenser mic and the vintage Sennheiser* MD-421 dynamic mic.
This versatile and intuitive plugin offers guitarists two channel amplifiers with a shared EQ for both, it has four inputs, two for each channel, one normal and one brilliant. The two channels can be linked for extra punch and dynamic control of the EQ. It also includes a built in Impulse Response Loader, Noise Gate and Cleaner circuit and Bypass Mode. Nembrini's Hivolt 103 Custom Guitar Amplifier Plugin is a classy and affordable choice for musicians and producers looking for an easy to use plugin with tonal authenticity
On sale from the 14th February 2022, the Desktop version will be available for $39.99 (normally $137) and the iOS version for $9.99 (normally $19.99) until 28th February 2022.
* Please note that all marks and models are trademarks of their respective owners, which are in no way associated or affiliated with Nembrini Audio. These marks and names are used for the sole purpose of describing certain tones produced using Nembrini Audio's modelling technology.
**iLok - No dongle required just free account.