NEUTRIK updates NL2FXX & NL4FXX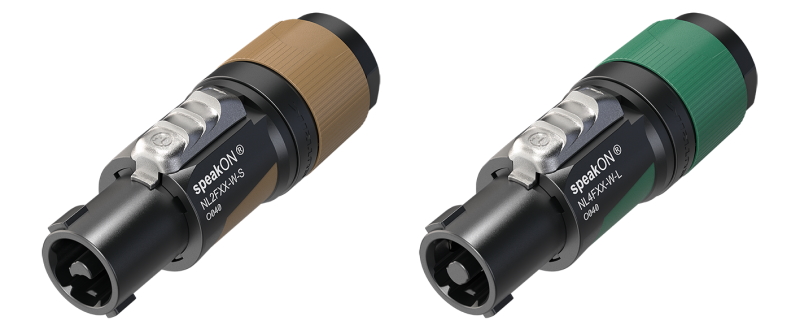 NEUTRIK has expanded its speakON range with upgrades to its 2-pole and 4-pole audio cable connector portfolio in the form of the new NL2FXX and NL4FXX. These new models affirm NEUTRIK's continuing commitment to the highest quality standards of engineering and performance, and meeting the latest international standards and safety regulations. Thus making it easy for our customers to design-in our products to support a trouble-free certification process.
New features of the NL2FXX and NL4FXX include a locking bushing that protects against unintended opening – uniquely providing locking bushing and strain relief for cable diameters of 6 mm to 12 mm in the S variant connectors, and 10 to 16 mm in the L variant connector – and a unique two compound housing to improve the handling in daily operation.
The new connectors are easier to assemble, as the strain relief chuck mechanically snaps to the insert and aligns with the housing; allowing for faster, smoother assembly of the connector.
Other superior features include:
Up to 37 A rms current rating.
IEC 61984, UL 1977 and CSA C22.2 No.182.3 certification; ensuring component acceptance for cable assemblies and equipment in compliance with various AV and IT international safety standards, such as IEC/UL 62368-1.
Superior quality NEUTRIK manufacturing, robust construction and reliability.
Simple and reliable twist locking system?.
Improved kink protection with two-component bushing.