Pliant Technologies MicroCom 900XR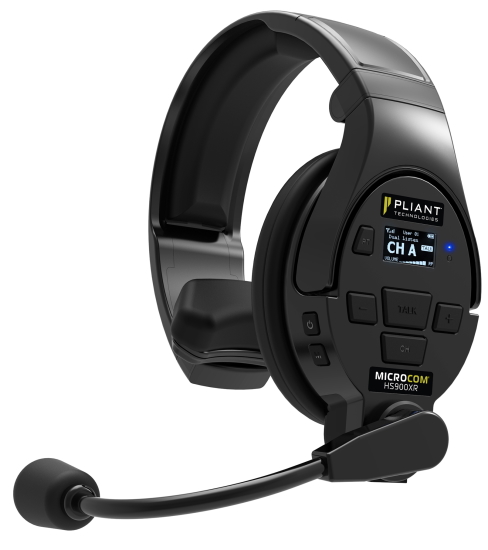 Pliant Technologies, a provider of professional wireless intercom solutions, introduces the latest addition to the MicroCom family of products, the MicroCom 900XR Wireless Headset [PMC-HS900XR] at InfoComm 2023 (Booth 4854). The latest solution combines the great sound quality, excellent range, and budget-friendly price point of MicroCom XR with the comfortable fit, exceptional noise isolation, and flip-up microphone muting technology of the SmartBoom PRO headset, but without the wire.
"We're excited to present the new all-in-one MicroCom 900XR Wireless Headset at InfoComm 2023," says Gary Rosen, Vice President of Global Sales for Pliant Technologies. "This new addition to our MicroCom line is the perfect solution for users looking for a quality and convenient wireless intercom, at an affordable price. The new MicroCom XR wireless headset is fully compatible with our MicroCom 900XR beltpacks. This enables our customers to use a combination of MicroCom 900XR wireless all-in-one headsets and our 900MHz beltpacks as part of the same system."
The new MicroCom 900XR Wireless Headset is available in single-ear and dual-ear configurations featuring an internal antenna and field swappable batteries with considerable run time (14 hours on the dual-ear headset and seven hours on the single-ear headset). Its lightweight and adjustable design allows for comfortable all-day wear and the headsets collapse for easy storage and travel when the production or project is complete.
The MicroCom 900XR Wireless Headset exhibits the same proven performance and functionality as the MicroCom 900XR beltpack but is engineered to fit into the SmartBoom PRO headset ear cup. Its unique all-in-one design features an easy-to-read OLED display, two intercom channels with a dual listen option, and support for up to 10 full-duplex users including unlimited listen-only and shared users.
Also available with the new MicroCom XR Wireless headset is the industry's first Drop-in-Charger [PBT-HSXRC-66] for an all-in-one style headset. Up to six individual headsets (single or dual) can be put on the charger without having to remove their battery or plug in a USB charging cord to the headset itself. Users can also drop in up to six additional batteries (sold separately) for simultaneous wireless headset and spare battery charging capabilities.