APG to showcase new products at ISE 2022


APG iS Series HD
APG, the inventor of the modular line-array system, is returning to ISE with a bang to showcase a new series of loudspeakers, subwoofers and amplifiers. The manufacturer of professional loudspeakers made in France will also take this opportunity to present its brand-new visual signature. Inspired by the iconic blue border dear to the brand since its creation in 1978, and symbolising the sound precision and fidelity on which APG has built its reputation, the new logo will now act as an integrated visual element on all products. Both elegant and discreet, this signature will be part of a new generation of round perforated grilles that are perfectly integrated into the loudspeakers' enclosure.
On the stand (hall 7, #K150), APG will unveil the new SPOT2.6, a passive full-range compact loudspeaker equipped with 2x 6.5'' speakers and a compression driver loaded by a 70° x 50° constant directivity horn. SPOT 2.6 offers perfect directivity control over a wide frequency range (70° x 50°) thanks to the two low-mid d'Appolito mounting transducers coupled with a rotating horn for high frequencies. SPOT2.6 comes with a wide range of optional accessories, including a stand base, U brackets for horizontal and vertical installation, link plates for clusters of up to 3 loudspeakers. Available in 4 Ohm (SPOT2.6/4) and 16 Ohm (SPOT 2.6/16), the new loudspeaker comes with a 5 years' warranty and can be coupled with an optional 200W external transformer for 100V line set up.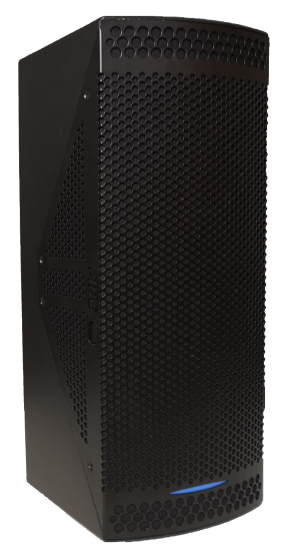 APG will also introduce the new DA amplifier series. Developed in partnership with Powersoft, the DA8 and DA12 are 4 channels amplifiers with signal processing, analogue, AES3, Dante/AES67 inputs and outputs, and a bright 4.3" IPS touch display. The 4 channels offer high power and voltage, allowing for high SPL even with 8 or 16 Ω loads, and is capable of delivering a massive 4 x 2000 W (for the DA8) and 4x 3000W output at 4 Ω. The amplifier's power supply has been designed to operate anywhere in the world. An internal energy storage system allows the amplifier to keep performing consistently in the event of a power drop. The amplifier can be controlled with touch screen. With functions including preset recall, gain, delay, and muting functions, the DA8 and DA12 can also be controlled remotely using Powersoft's ArmoníaPlus software.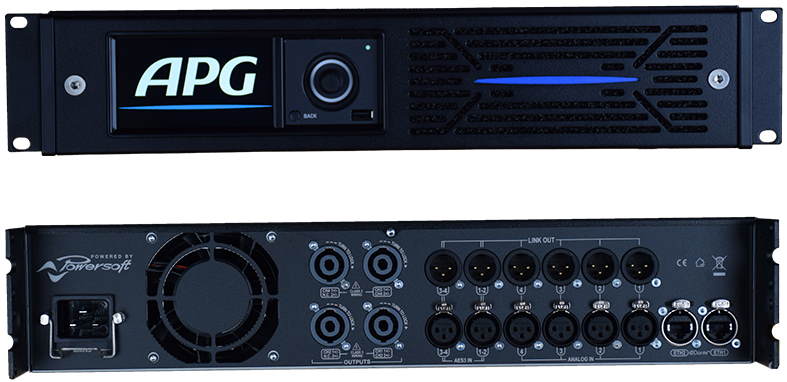 Elsewhere on the stand, the iS subwoofer range will also make its international debut. Comprising three models (iS110, iS112 and iS115) with a 10", 12" and 15" driver respectively, APG's iS replaces the SB series, bringing an even wider bandwidth of bass that perfectly fits the needs of modern music. The new series also features a number of functional insert points and accessories for wall mounting (iS110), overhead mounting (iS112 and iS115) and coupling with the iX range of installation loudspeakers, using crossbars to create modular, high-performance and easily movable sound systems. Thanks to its optional mounting system, the iS115 subwoofer can be coupled with the iX12 loudspeaker. When coupled, the bass efficiency of these two loudspeakers allows the creation of compact clusters that will bring an innovative solution for nightclubs and small to medium concert venues.
To complement the iS range, APG will also showcase the UC118i, a new high-powered subwoofer. Equipped with an 18-inch, bandpass loaded loudspeaker, this subwoofer complements the Uniline Compact range as well as the iX 12 and iX15 models to provide a physiological bass effect.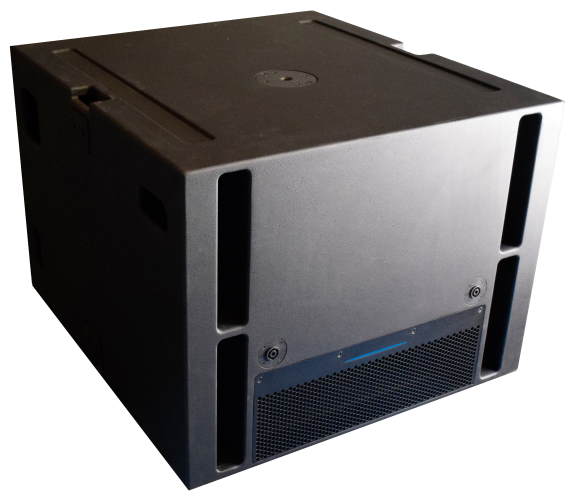 The UC118i also features a new APG EasyLink docking system that allows for easy clustering of up to three loudspeakers in either omni-directional or cardioid configurations.
Visit APG on Hall 7, booth 7K150.