Apogee Duet 3 Limited Edition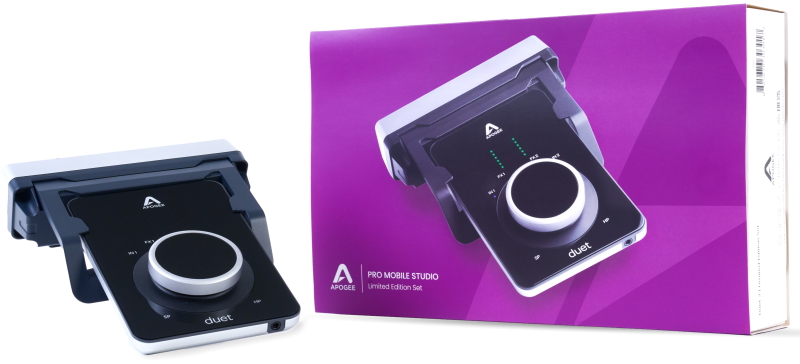 Apogee Electronics, a pioneering force in digital audio recording technology since 1985, presents the Duet 3 Limited Edition Set, available exclusively at Guitar Center in the US and select stores worldwide. This special bundle gives customers an array of innovative tools to shape their recordings and kickstart any project.
In 2007, the original Apogee Duet redefined the expectations of a home studio interface. The Duet revolutionized independent recording, empowering musicians, producers, and engineers with legendary Apogee sound quality, elegant design, and effortless ease of use.
This new limited edition set pays homage to the standards set by the iconic original Duet and offers customers the biggest value yet. Creators will receive the Duet 3, the Duet Dock and 3 of the best-selling Apogee plugins. Providing everything required to break through and fulfill their potential. This limited edition is worth a total value of $1,473 and is now available at Guitar Center for a limited time for $699 (USD).
Included plugins:
Pultec EQP-1A & MEQ-5: The only Pultec plugins officially licensed and endorsed by Pulse Techniques (the official manufacturers of the complete Pultec line to the original design specifications).
Clearmountain's Spaces: Reproduce some of BobClearmountain's favorite spaces with his signature reverbs that will set your mixes apart.
The Duet 3 is a powerhouse when it comes to a portable pro audio interface. However, when paired with the Duet Dock, the overall experience is elevated. The angled positioning and rear-panel connectors of the Duet Dock help tidy up your desk. Connecting the Duet and Duet Dock introduces an extra headphone jack, enabling seamless collaboration and focused creativity.
With the Duet 3 Limited Edition Set, you gain access to an exclusive kit of sound-shaping tools. Utilize the onboard DSP with Symphony ECS Channel Strip or experiment with the three included plugins: Pultec EQP-1A, Pultec MEQ-5, and Clearmountain's Spaces. Elevate your productions and mixes with added dimensions.
Features:
2x4 USB-C Audio Interface
2 Studio Quality Mic Preamps with +65 dB of gain.
On-board processing with Compression, EQ, and Saturation
PureDIGITAL connection for up to 24-bit/192kHz recording
Bus Powered with included USB-C Cable W/USB-A adapter
Get 50% off any Apogee plugin or plugin bundle when you register your Duet 3
Inputs
2 balanced 1/4" instrument/line input
2 balanced mic/line/instrument Combi input
Outputs
11/8" Zero-ohm headphone output
11/4" Zero-ohm headphone output
Left/Right1/4" balanced speaker outputs
*Breakout cable and case sold separately.
Bundled Software:
Ableton LiveLite ($99 Value)
Apogee Pultec EQP-1A Native Plugin ($199 value)
Apogee Pultec MEQ-5 Native Plugin ($199 value)
Clearmountain's Spaces Native Plugin ( $49 value)
Melodyne 5 Essentials ($99 value)
SoundGym (1-Month Free Membership)
In the box:
Duet 3 ($649 value)
Duet Dock ($179 value)
USB Type C/A Cable
Software Activation Code
Duet 3 Limited Edition Set is available for $699 (USD) on September 26th, 2023 exclusively at Guitar Centers in the US and select stores worldwide.