ACT Entertainment Plate & Panel Design Software Updates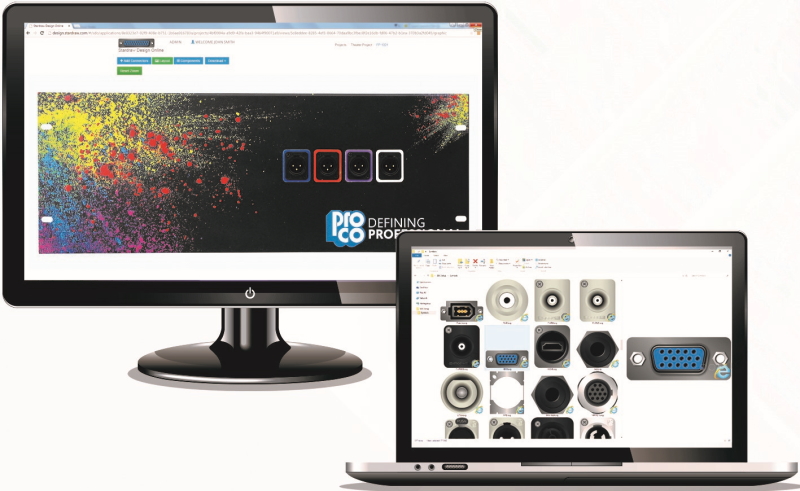 ACT Entertainment, a manufacturer and distributor of music and live performance equipment, is showcasing cutting edge updates to its Design Vision custom plate and panel software at InfoComm 2023 (Booth 3643). Company representatives will be available to demo the software and further discuss how it will benefit installations for ProCo Sound Custom Shop customers.
Design Vision provides an easy drag and drop process that affords users with a simple, free, web-based method of turning their ideas for customized plates and panels into a finished, professional design. It is compatible with Mac, PC and a wide array of mobile devices to increase accessibility for customers in any setting including on the go.
An extensive and growing library of components is included in the program to allow immediate selection of plates, panels, connectors and more in just a few clicks. Among these are a wide assortment of aluminum and steel plates and panels with an extensive array of finishes, including anodized, powder-coated or painted. Industry leading connector brands such as Neutrik and Switchcraft are also showcased. Additionally, Design Vision provides reporting that displays product drawings, material lists and total retail price, which is especially useful for inclusion in bids.
"With the Design Vision Software, we will be able to provide our Custom Shop customers with customized ProCo Sound solutions that meet the needs of any venue," says Shawn Wells, Market Manager: Pro A/V & Artist Relations, ACT Entertainment. "Our ProCo Sound Custom Shop has complete metal shop capabilities and vibrant, high-resolution, full-color printing. This means we're able to turn any system design into a reality right from our U.S. home base. We look forward to discussing this further at InfoComm."