PK Sound .dynamics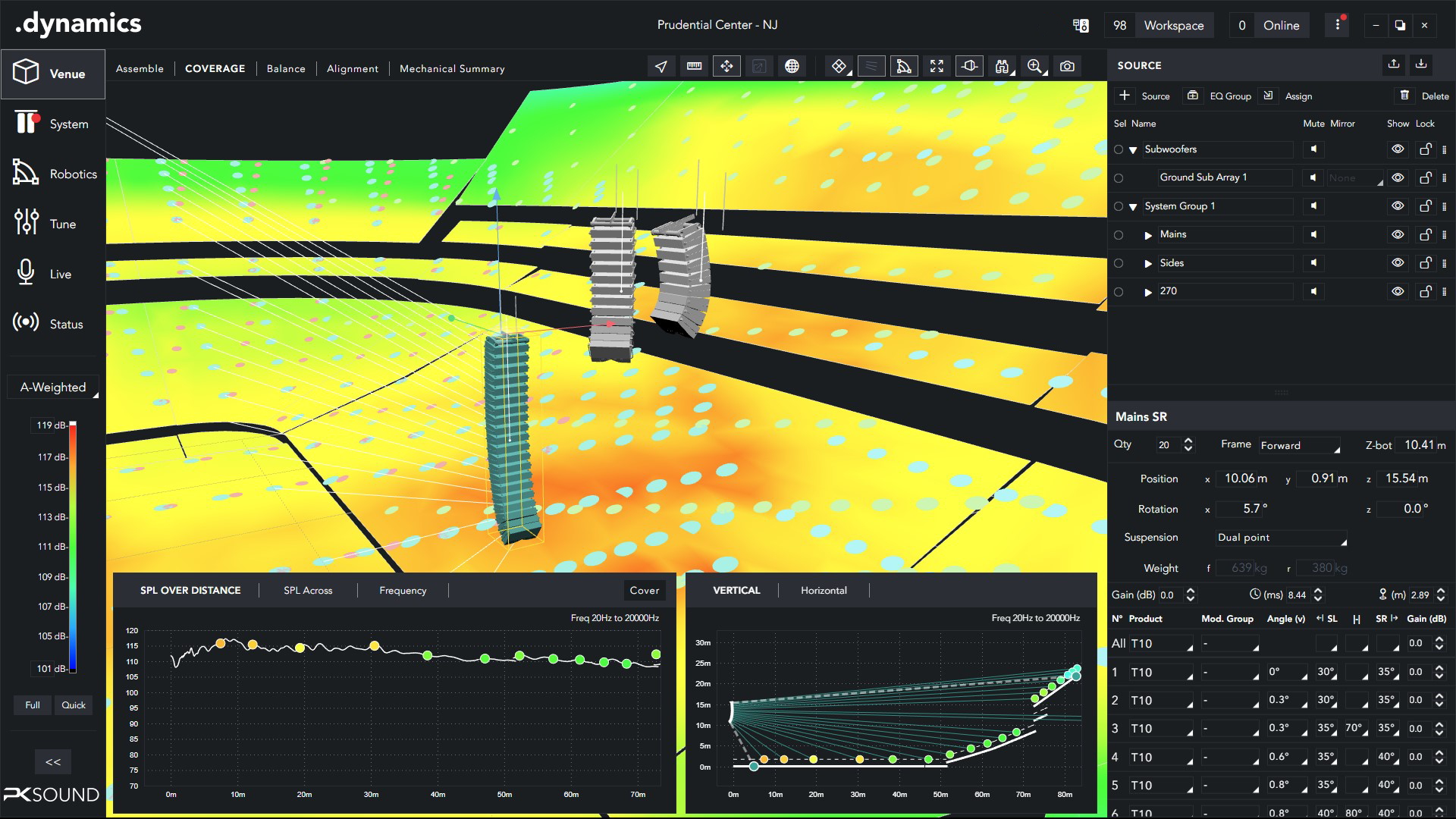 PK Sound, the robotic line array company, has formally released V1.0 of its PK .dynamics robotic system control software for Windows and macOS. Combining every stage of the modern live sound workflow in a single solution, .dynamics lets users take their designs from conception to the real world with the flexibility of real-time coverage adjustments even after the system is flown.
"PK .dynamics represents the next stage in PK Sound's evolution, advancing the intimate relationship between hardware and software with unprecedented end-to-end control to fully realize the potential of our robotic line source systems," shares Jeremy Bridge, CEO and Founding Partner. ".dynamics frees audio professionals from a rigid, inflexible workflow and gives them the tools to effectively control the soundfield through mechanical optimization for unparalleled performance, flexibility, and safety of deployment in any application."
"When our team sat down to imagine what .dynamics could be, we first considered what we had at our fingertips – the most powerful system building blocks ever realized in pro audio," comments PK Sound's lead software engineer, Matt Wong. "Today, that means hardware with unmatched control, and in the future, allows us to release new features that will keep users at the forefront of our industry for years to come. Imagine a platform where you can design and control every aspect of an event deployment, regardless of your starting point; one software solution that makes several others obsolete."
Built on an Electron backbone, PK .dynamics employs HTML5, Sass, and TypeScript to provide a robust user experience and modern design. Leveraging a microservice-based architecture for flexibility and scalability, the application offers a consistently evolving feature set. This architecture allows .dynamics to drive PK Sound products using the AES70 standard over a Milan-ready AVB network.
Through over 18 months of alpha and beta field testing, .dynamics has been deployed for major tours and festivals around the world, including the F1 Belgian Grand Prix, Essence Festival of Culture in New Orleans, Electric Daisy Carnival Las Vegas, and full North American runs with country star Dierks Bentley and the NY State of Mind Tour with Wu-Tang Clan, Nas, and Busta Rhymes.
"I'd like to thank everyone on the PK Sound team that helped us achieve major and memorable moments throughout the NY State of Mind Tour," comments Peter Dottin, FOH engineer for Nas and Busta Rhymes. "Using PK .dynamics, we maximized the integrated robotics of our T10 system to achieve coverage tailored to the needs of each venue."
The recently-premiered Global Launch Event for PK .dynamics guides users through a complete robotic system deployment in a renowned performance venue. The toolset provided in .dynamics V1.0 includes: the Venue tab, where users create, simulate, and prepare the virtual workspace; the System tab, where they discover, identify, and match real-world sources with the simulation; Robotics, where the system's multi-axis coverage is articulated and optimized; Tune, where users apply EQ and adjust system parameters through onboard DSP; Live, where users monitor system performance in real-time; and Status, where they can manage diagnostics and log service notes directly in the loudspeaker modules if needed.