2wcom's FMC01 – a versatile Solution for FM MPX Distribution over IP

The FMC01 is groundbreaking compact codec for high-quality FM MPX distribution via IP with synchronization in microsecond range and short delay. The device allows 100% loss less audio encoding and decoding of MPX audio bands (mono, stereo). To ensure best signal quality, the codec is equipped with a high-end converter (ADC, DAC) and supports sample rates of 132 -192 kHz with 16, 20 or 24 bits resolution.
The FMC01 allows broadcasters to achieve substantial savings by simplifying the delivery infrastructure. Integrated in FM studios the device not only encodes the signal for FM MPX distribution via IP, but also reduces the bandwidth appropriate for IP, digitalize/encode the FM MPX signal and output it over IP. At transmitter site, the codec receives and decodes the FM MPX signal and RDS data from IP stream for transmission. Hence, at transmitter site it is no longer necessary to generate the MPX signal, or to use a RDS encoder and stereo generator. As the first unit to combine encoder and decoder functions in the same chassis, the FMC01 offers significant operational advantages and infrastructure savings. Crucially important in this context, the FMC01 enables broadcasters to create a signal distribution system that delivers the same high-quality signal from each transmitter site. The device also ensures very low installation, service and maintenance costs.
Characteristically for the user-friendly device is a simplicity in configuration by an intuitively operated web interface or jog wheel – examples given:
Synchronization of decoders in microsecond range. Thus, the FMC01 is capable to operate SFN networks.
Activation of Pro-MPEG FEC (Forward Error Correction) to compensate for IP packet loss.
Further redundancy for IP transmission by activating DualStreaming.
Monitoring of significant parameters and alarm settings (SNMP, Relais, LED)
System operators retrieve information about main quality parameters or adjust system settings via SNMP. Furthermore, an integrated stereo decoder demodulates MPX in- or output, so that the signal can be played off via L+R XLR or headphone output. The integrated RDS decoder enables monitoring of the RDS signal and an optional alarm control (PI, PS).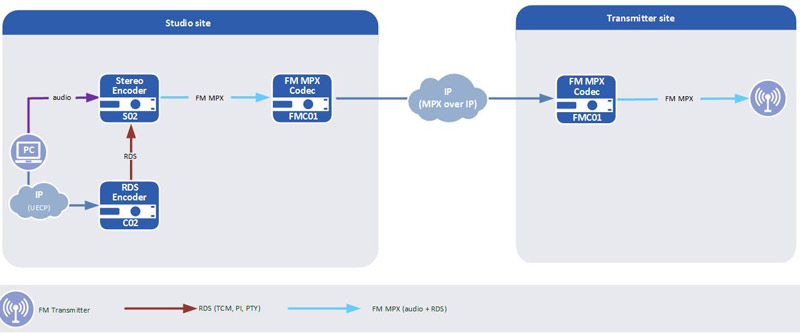 Besides the advantages stated above, the FMC01 offers much more opportunities to optimize costs for the whole process chain from studio side to transmitter – short overview:
Production of the program and forwarding the FM MPX signal from one central location (Play-Out center of the broadcaster)
eliminates processing of the modulation signal for every program at every single site
less power consumption – year by year
less space needed at the sites
less equipment and as a result less heat dissipation
Minimashort wiring