MONACOR WALL-05DT
Wall and Ceiling Speaker with Internal DSP and Dante Interface
Author and Photos: Peter Kaminski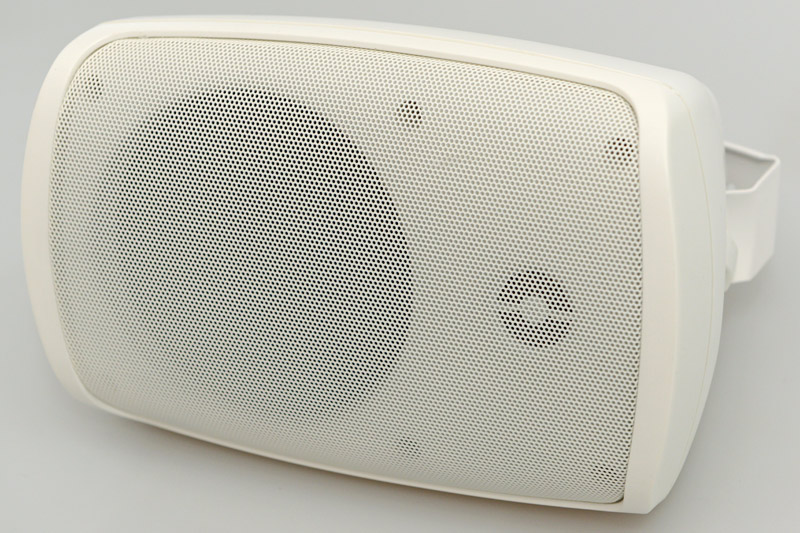 At the beginning of the year, MONACOR has introduced their first wall and ceiling speaker (163 x 252 x 165 mm, 1.95 kg) with Dante network connection: the WALL-05DT. In addition to this Dante-enabled speaker, MONACOR also offers a series of other Dante products - but more on this later. First of all, we would like to draw your attention to the WALL-05DT.
Connections
Transmissions via Dante use Ethernet-based network technology. The rear panel features an RJ45 jack as input IN for connection to a Dante network. The power is supplied via PoE (Power over Ethernet, according to IEEE 802.3af-2003) or an external 12 V power supply (2 A) which is to be connected to a DC jack. MONACOR also offers a suitable DC power supply (PSS-1230DC).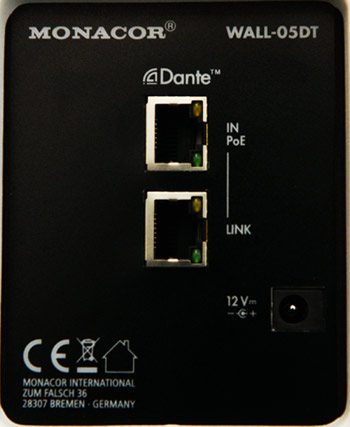 The input signal is fed through via a second Ethernet connection LINK which allows for connection of an additional WALL-05DT or an additional Dante device. PoE will, however, not be forwarded.
Technology and Concept
The WALL-05DT is a two-way speaker with a frequency range from 62 Hz to 20 kHz. The bass speaker features a diameter of 5 1/4" (approx. 13 cm) and the tweeter a diameter of 1/2" (13 mm). The max. rated SPL (@ 1 m) is 102 dB. The output power of the amplifier depends on the type of power supply. With PoE, this totals 10 W and 20 W with an external 12 V power supply (18 W low frequency path, 2 W high frequency path).
The speaker cabinet accommodates a signal processor and there are various processing options available for the input signals - but more on this in the chapter about the configuration software.
Mounting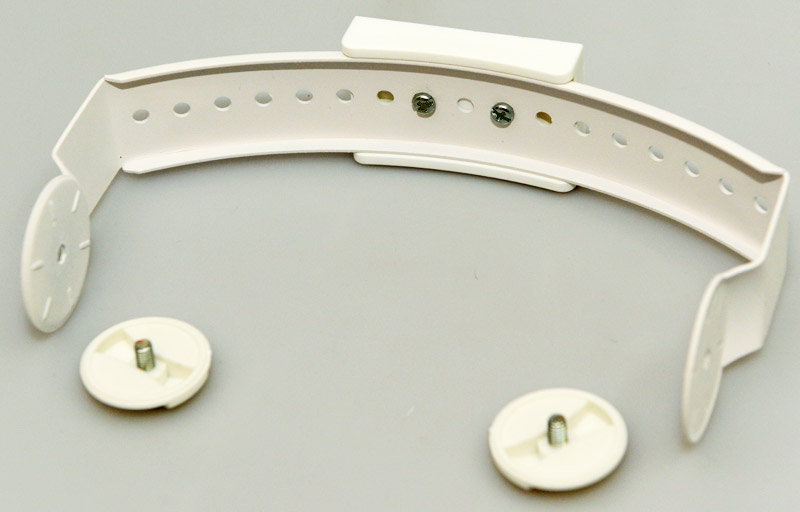 The scope of delivery includes a metal wall bracket for attachment to the speaker system which is then locked into position via two knurled screws.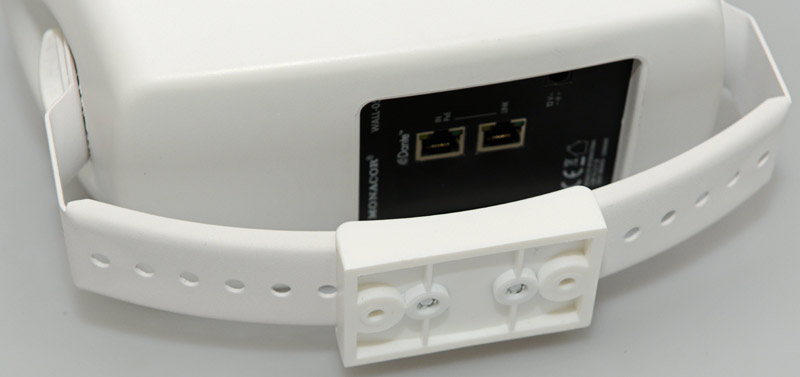 By slightly loosening the screws, the speaker system can be tilted respectively and be set again via tooth locking mechanism (see image below).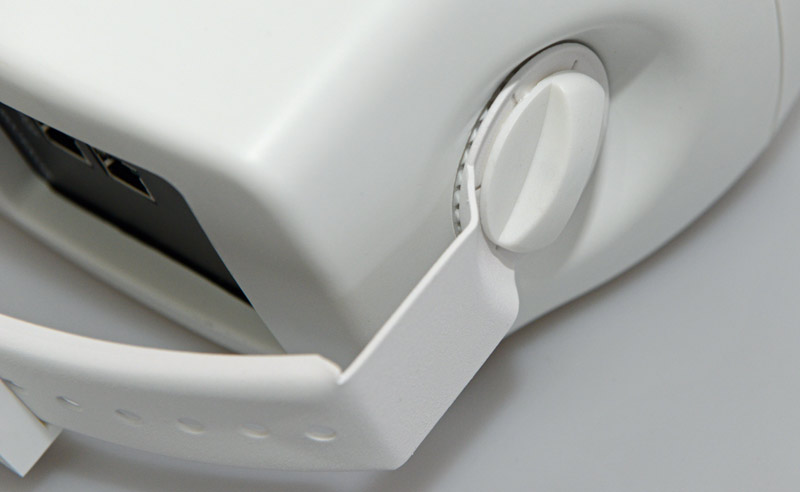 In addition to white and black, the WALL-05DT from MONACOR is also available in any RAL colour for the speaker and bracket to match their surroundings. The speaker cabinet is made of plastic.
Dante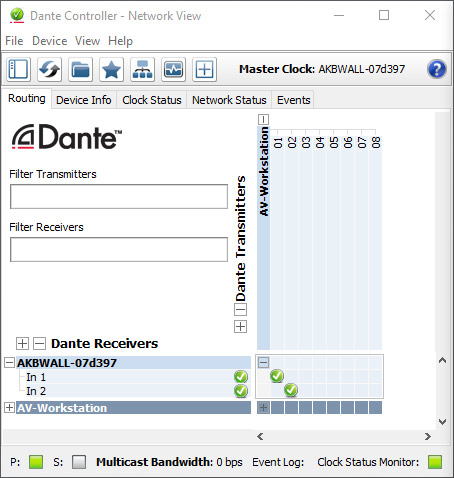 It features an audio resolution of 16 to 32 bits with sampling rates from 44.1 to 96 kHz. The WALL-05DT features two inputs for the Dante network. These input signals can be mixed via the internal DSP. The Dante controller displays these two inputs for every speaker which can be routed to any output in the network (see image above), even to two different Dante audio players or to one stereo source.
Configuration Software
The configuration software is available as a free download from the MONACOR website. For the operation, it is of course important that the computer used for the control is located in the same network. The 'MONACOR DSP controller' is used for different kinds of MONACOR devices with DSP function (see image below). The existing devices appear on a list. The names of the devices can be assigned as required, so that rooms and zones can be allocated when several WALL-05DT speakers and other devices are operated within the network. The overview window also displays MAC address and IP address for each device and it is possible to create device groups.

Clicking onto the arrow of the respective network device will open the specific configuration window (see image below).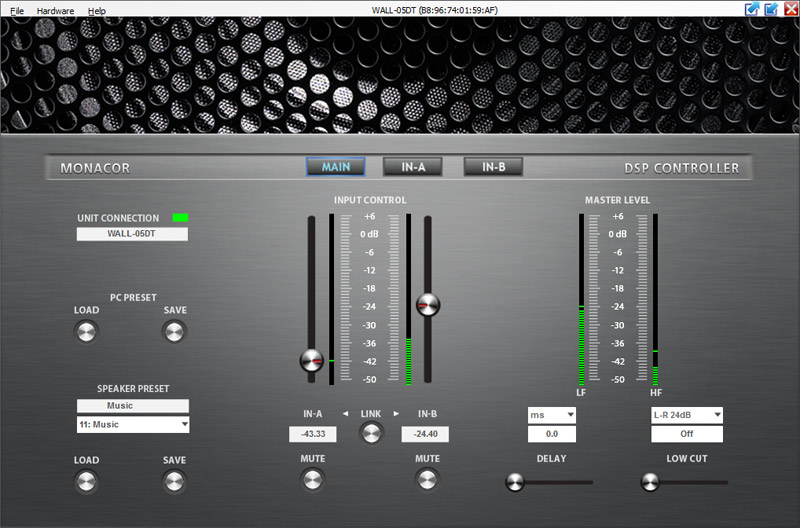 The internal DSP of the WALL-05DT has a lot to offer. In addition to the level adjustment (-50 to +6 dB) via two virtual sliding controls with link facility for stereo operation and mute buttons, it also features a delay of up to 40 ms (can also be set to distance, e.g. in metres or millimetres) and high-pass filter with adjustable type of filter (Butterworth, Linkwitz-Riley and Bessel), filter slope (6 to 24 dB/oct.) as well as limit frequency (20 to 500 Hz). It is possible to store and access settings at the speaker (speaker preset) as well as on a PC (PC preset).
If you click onto the virtual button IN-A or IN-B in the main configuration window, the window will change to the view Input (see image below). However, you will have to enter a corresponding password first to register as an administrator with the MONACOR DSP controller. Access has intentionally been denied to standard users.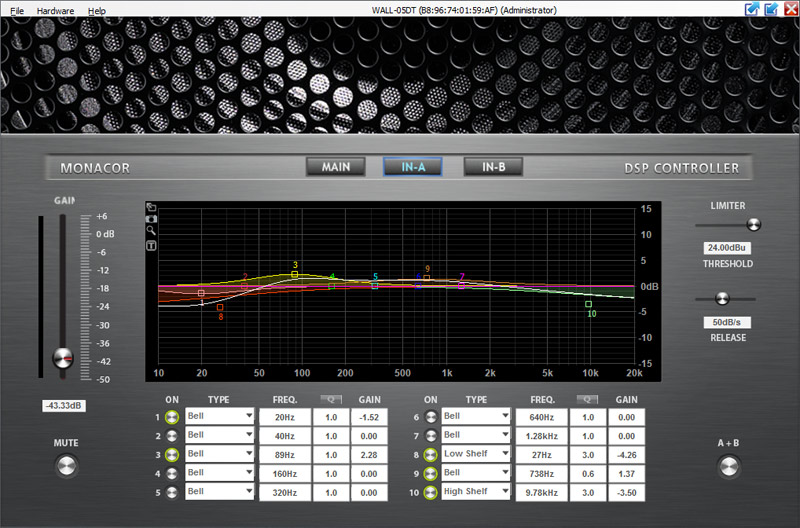 The view Input offers additional options. The values can be imported for both channels via the A+B button. The internal DSP provides a peak limiter with adjustable threshold and an adjustable reset speed (10 to 100 dB per second).
Furthermore, a full parametric equalizer with ten bands with individually adjustable types of filters (bell, notch, high-shelf/low-shelf, all-pass, band-pass, high-pass, low-pass), frequencies (20 Hz to 20 kHz), Q factor of bell filter (0.2 to 25) and gain (- 12 to + 12 dB) for signal processing are available.
App
The DSP functions of the WALL-05DT can also be controlled via iOS app. The app store offers an app for both iPod and iPhone.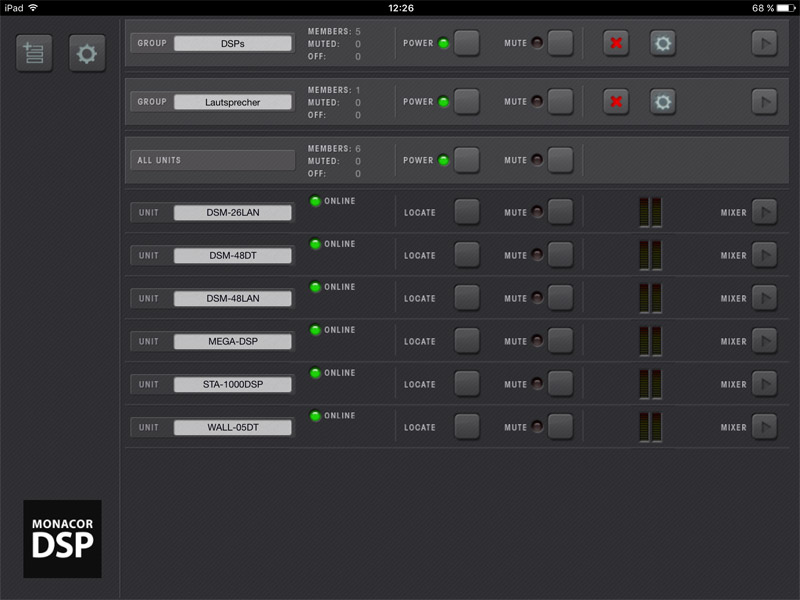 The iPad app provides the same features as the DSP controller software from MONACOR. It is also possible to create device groups. However, the display is designed to match the typical iPad functionality and thus varies slightly from the display of the DSP controller software.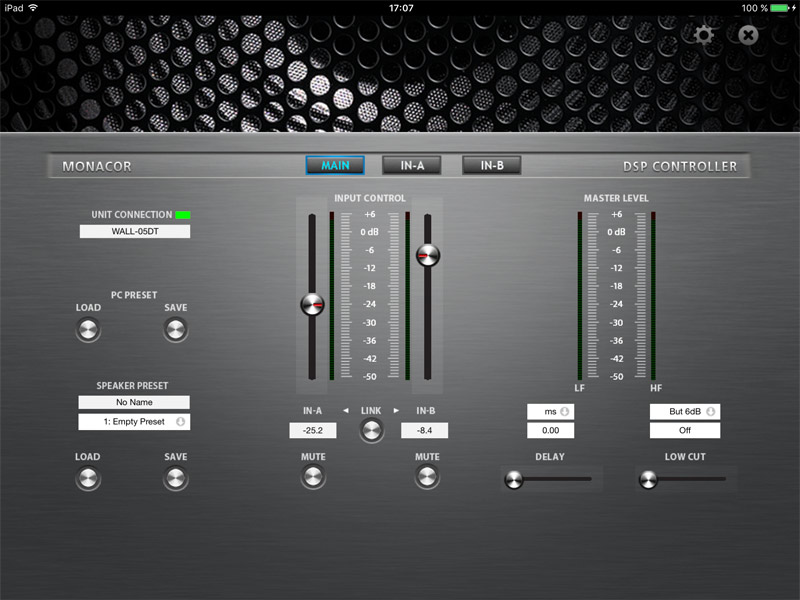 The user surface of the app for the views MAIN (see image above) and IN 1/2 (see image below) is almost identical to that of the DSP controller software from MONACOR.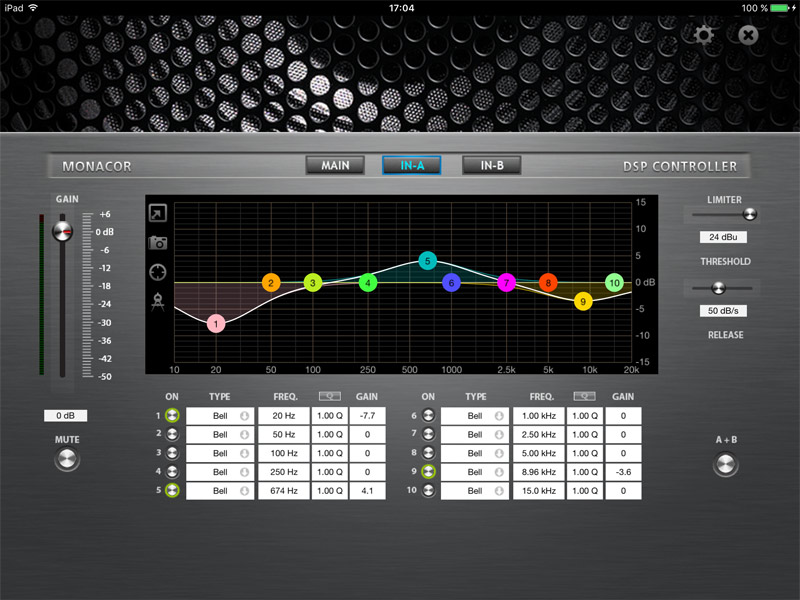 At the views IN-A and IN-B, the graphic filter points are typical for iOS. Otherwise, the design is identical.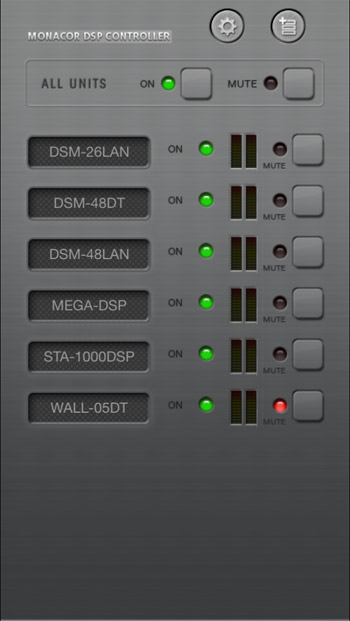 With the app for iPhone (see image above), you are only able to switch individual network devices on or off or to mute them via individual virtual buttons. You are not able to access configuration pages. For monitoring purposes, the level for individual devices is shown as a mini bar graph display. It is also possible to set up and administer individual device groups.
Practical Operation
The DSP functionality has a lot to offer. The full parametric equalizer allows you to meet most versatile requirements. With windows software or apps for iOS, it provides a convenient operation with a clearly arranged display. Due to the possibility of creating device groups and individually naming the devices, you can maintain a clear overview at all times, even with more complex networks. The functionality is enhanced due to the possibility of mixing the two input channels. Each device group also features a master control which is a clear advantage with regard to the WALL-05DT and PA applications for different zones.
Despite its size, the speaker delivers an excellent sound. It provides a great music reproduction as well as a clear voice reproduction and depending on the size and type of music should be supported by one or two subwoofers when used for higher requirements, e.g. in bars.
We would also like to mention that a version of the previously tested MONACOR DSM-48LAN is now available with Dante. The DSM-48DT is of identical design but you are able to integrate it to a Dante network via Ethernet connection. Inputs 3 and 4 can alternatively be inserted into the Dante network. MONACOR also offers additional Dante-enabled devices like power amplifiers with Dante input for fixed installations. You can find all the information in the comprehensive catalogue from MONACOR.
Conclusion
Dante or IP-based audio devices will prevail more and more in the field of fixed installations and extensive Ethernet cabling should be classed as an indispensable standard when building a new house. For PA applications, it also makes sense to use Ethernet cabling via Dante.
In combination with the integrated DSP, the WALL-05DT from MONACOR offers great possibilities with its remote functions which you do not want to do without. The WALL-05DT also shows an impressive workmanship and sound quality.