Royer Labs FlexBar Dual Microphone Utility Bar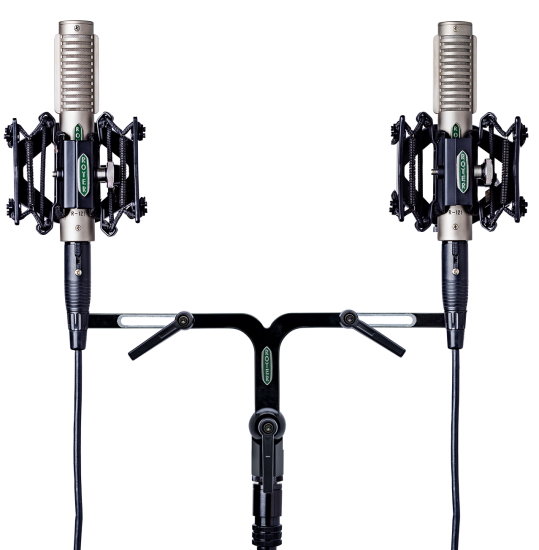 Royer Labs, a manufacturer of high-quality ribbon microphones, announces the FlexBar Dual Microphone Utility Bar, a versatile, multi-purpose microphone positioning tool designed to hold two microphones in a variety of configurations. Compared to standard stereo microphone bars, the FlexBar's lockable L-shaped arms facilitate greatly increased flexibility in addition to traditional stereo bar positioning.
The FlexBar's lockable L-shaped arms enable it to be used for applications like a two-mic setup for miking acoustic guitar and vocal, or miking the top and bottom of a snare drum with a single microphone stand. It's also an excellent choice for standard stereo bar applications such as head-to-head stereo Blumlein configuration, standard spaced pair, ORTF, etc. Its etched gradient markings allow for easily repeatable mic setups. The FlexBar is made of aerospace grade aluminum and utilizes a non-reflective black finish. The FlexBar was designed in a Royer Labs/Triad-Orbit partnership and can be used with all Triad-Orbit accessories.
John Jennings, Royer Labs' Vice President of Sales and Marketing, commented on the new FlexBar Dual Microphone Utility Bar, "Rick Perrotta (President of Royer Labs) and Triad-Orbit put their heads together on this unique mic mount system and it turned out to be even more versatile than we had originally planned. There's a lot of functionality and versatility in the FlexBar, going well beyond traditional stereo bar setups, and we think audio engineers will find it indispensable once they've set one up."
The Royer Labs FlexBar Dual Microphone Utility Bar is expected to be available August 14, 2023 at a price of $199.00 (US).