Focusrite masterclass by GRAMMY winners Carlos Vives and Rafa Sardina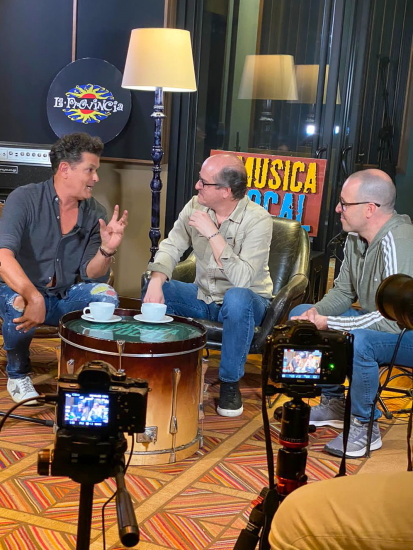 On Wednesday, January 25, 2023, Focusrite Group presented a special masterclass featuring Carlos Vives and Rafa Sardina for Muevete Colombia in Bogotá. Muevete Colombia is a program of the Inter-American Development Bank, which co-presented the event in conjunction with the Colombian government and delivered by Bogotá-based DNA Music. To celebrate Colombian youth and the Muevete Colombia program, Focusrite Group and one of its close professional artist-customers and friends – multi-GRAMMY and Latin GRAMMY-winning producer, engineer, and musician Rafa Sardina – asked Colombian music icon and GRAMMY winner Carlos Vives to participate in this virtual masterclass, which took place live from Vives's studio.
Vives and Sardina discussed their musical careers, inspirations and passion for music-making, and took questions from thousands of Muevete Colombia program participants from throughout the country. The event ran for 90 minutes. David Najera, head of Muevete Colombia, served as host, and Gustavo Sacchetti, Product Specialist, Focusrite Latin America, served as moderator.
Vives and Sardina went into depth on their lifelong inspiration to be music-makers; the ins-and-outs of their careers, including what it means to write, record, produce and perform music and the business of it; advice on skills required for young people aspiring to work in the music industry; and much more. The event ended with an open Q&A.
The purpose of the Inter-American Development Bank is to engage teens and twenty-somethings in a multi-month next-generation skill development program, including business, entrepreneurship, digital media, music, and more. The program pilot has been underway since September and is engaging thousands of Colombian young people in 6 locations throughout Colombia. As a member of the Inter-American Development Bank's 21st Century Learning Skills Coalition, Focusrite Group has donated 4,000 Novation Launchpads, grid-based electronic creative instruments - one for each program participant. Focusrite Group is a leader in music and audio technology throughout Latin America and the world, and cares deeply about next-generation professionals and music makers.