Update: beSOOPER at the Badesee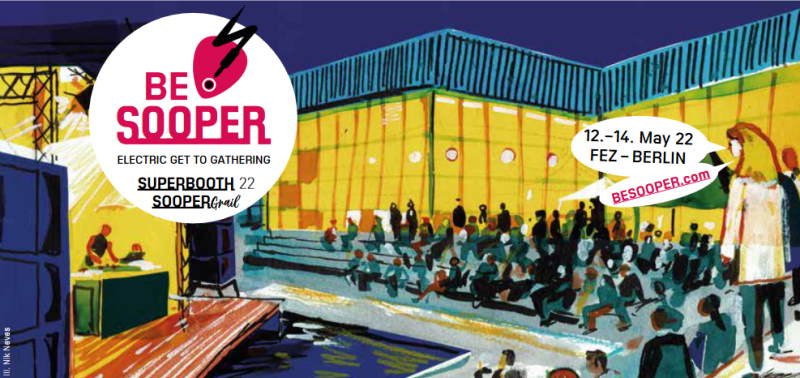 "We have revised our space concept for beSOOPER and discovered the Badesee (Bathing Lake), now there is even more air and space for sound and visions of new music."
Parts of FEZ-Berlin are in the potential access of the city as emergency accommodation for refugees from Ukraine - which is of course appropriate and important. Against this background, it has been decided to develop further areas in the park grounds, to do without the use of the West Wing and to divide the Seebühne (Sea-side Stage) between two new locations. All artists announced for the Seebühne will be presented on the beach stage at the Badesee (Bathing Lake) and the new stage in the circus tent.
beSOOPER will thus be even bigger, with even more space and activities both outdoors and indoors: more than 150 booths with all kinds of electronic musical instruments and guitars of all known and unknown types, about twenty performances, concerts, presentations and workshops per day, including some late-night activities in the Bungalowdorf (Bungalow Village).
The daily cultural program will start at the latest with the workshop presentation of the Modular Synthesizer Ensemble at 1:30 pm and will continue outdoors at full intensity and volume until at least 10 pm.
Most of the booths and activities for guitar enthusiasts are concentrated on the upper floor of FEZ-Berlin, while the SOOPERgrail concerts will take place in the circus tent. Many of the countless synthesizer and modular manufacturers can be found and experienced in the now expanded tent village - as already very successfully realized in 2021. The well-known and popular catering partners for food and drinks can be found at all outdoor locations.
In the foyer of the FEZ-Berlin there is the general info desk again, as well as the familiar ticket entrance for all visitors and artists, exhibitors and press partners. Guests arriving by public transport via the S-Bahn station Wuhlheide can get their wristband already at the bungalow village, upon presentation of their digital or printed ticket.
SUPERBOOTH22 // 12.-14. May 22:
One-day Ticket 35 EUR, discounted 25 EUR (THU, FRI, SAT)
Three-day Ticket 90 EUR, discounted 70 EUR (THU, FRI & SAT)
SOOPERgrail // 13. Und 14. May 2022:
One-day Ticket 18 EUR, discounted 15 EUR (FRI or SAT)
Two-day Ticket 30 EUR, discounted 25 EUR (FRI & SAT)
The aforementioned discounts apply to the unemployed, students, pupils, physically or mentally impaired upon presentation of the appropriate proof at the entrance to the event.
Until further notice, access is subject to compliance with the usual Corona rules, it is assumed that there will also be a mask requirement on the premises. In case of non-compliance, we reserve the right to expel guests from the premises without refunding the ticket price after issuing an appropriate warning.
All tickets will be personal and subject to compliance with the applicable regulations.
Until further notice, tickets will only be sold in advance and online.
In the event of a pandemic-related postponement or necessary cancellation of the event, tickets will remain valid until the last planned alternative date in September 2023.