VSL Big Bang Orchestra: Altair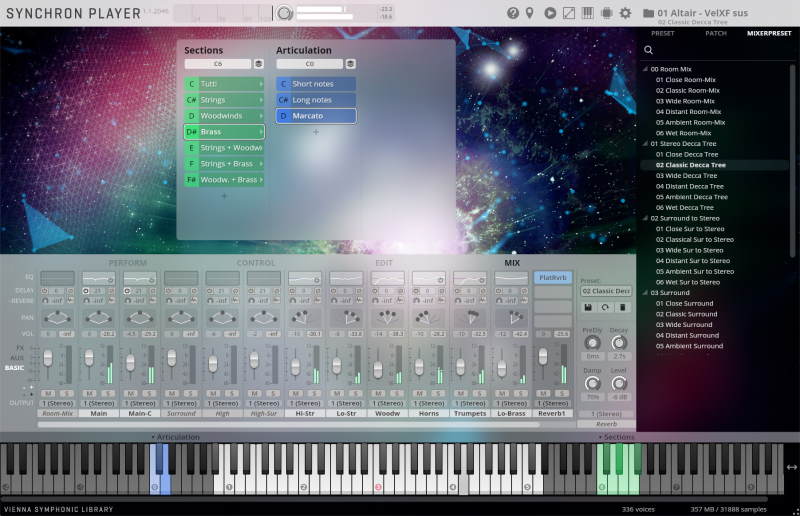 The Vienna Symphonic Library announces the release of a new addition to their Big Bang Orchestra series of tutti and section recordings. Big Bang Orchestra: Altair is an enhancement and alternative to Big Bang Orchestra: Andromeda, with short and long notes performed by the entire orchestra as well as by separate instrument groups of strings, woodwinds, and brass. It is currently available at an introductory price of €65 (reg. €95). What's more, the company offers all 26 previously existing Big Bang Orchestra Packs at their original introductory prices during the month of February, 2022.
Big Bang Orchestra: Altair presents a different take on Vienna's Synchron full orchestra recordings and is the perfect enhancement to the tutti performances of Big Bang Orchestra: Andromeda. BBO: Altair provides completely new recordings of short and long notes that are played by the individual sections of the orchestra, as well as by all of them together (tutti).
The appeal of this BBO Pack lies in the particular way the tutti performances and the sections of strings, woodwinds, and brass were recorded: In the first pass, each note was played by the entire orchestra. Immediately afterwards, each section played this note with the same phrasing and style. It's as though the entire orchestra played the notes together, but in fact they didn't – separate recordings of strings, woodwinds, and brass ensembles are available that can be combined and orchestrated as needed.
Users can easily switch between the various registrations in the Vienna Synchron Player that offers the tutti patch, the individual patches of strings, woodwinds, and brass, as well as combinations of strings/woodwinds, strings/brass, and woodwinds/brass. They all mix and match perfectly, and with the corresponding mixer presets they also blend seamlessly with the performances of BBO: Andromeda, as well as all the other Big Bang Orchestra Packs.
What's more, BBO: Altair provides users of BBO: Andromeda with slightly different tutti articulations. They're similar in sound and phrasing, but not the same, offering more variety and depth to tutti performances as well as more options for layering.
BBO: Altair uses the same microphone configuration that was used for recording BBO: Andromeda, giving users access to a total of eleven mic setups in the mixer of the Vienna Synchron Player.