inouï samples "Sweet Acoustic Textures - Viola" for Kontakt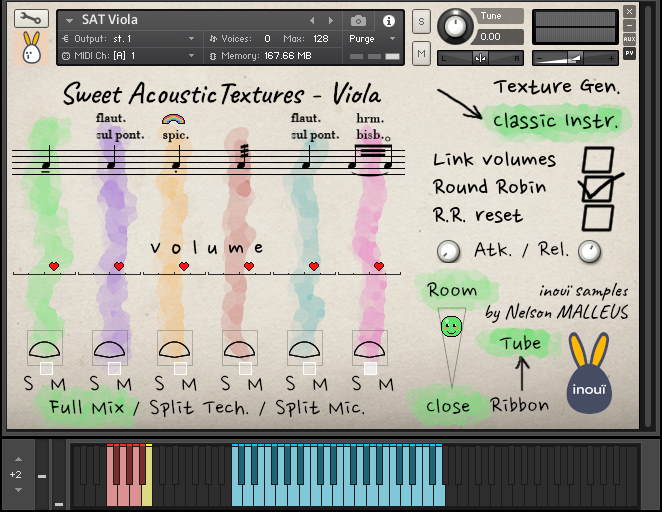 Viola is both a traditional virtual instrument and a random acoustic textures generator. It features a selection of 15 classic, less common and unheard playing techniques such as harmonic bisbigliando, flautando sul ponticello and much more.
The 2904 selected samples were recorded on a 1941 Ernest Ledler viola with an italica backplate in short and neutral acoustics, without any concession choosing the gears, then treated with the greatest care in the respect of the instrument tone.
Sweet Acoustic Textures - Viola is designed for composers and producers who are looking for the warm tone of viola or looking to create unheard acoustic textures.
Features
Musician: Camille-Raphaël BÉRARD
Viola: 42.5cm - 1941 - Ernest Ledler with italica backplate
2904 samples
48kHz / 24 bits
PrismSound Titan preamplifiers and converters
Recorded at Caverne Studio, Paris, France
3 microphone positions:
close subcardioid large diaphragm tube (Flea 49 Next)
close ribbon (Royer R122)
semi proximity omnidirectional short diaphragm couple (Sennheiser MKH8020 x2)
15 techniques:
Pizzicato
Col Legno Battuto
Spiccato
Ricochet
Swell
Long
Fast Détaché
Tremolo
Bisbigliando
Harmonic Bisbigliando
Col Legno Tratto
Flautando
Flautando Sul Ponticello
minor Trill
Major Trill
Up to 9 round robin
Up to 4 velocity layers
dynamics goes from ppp to mf, we did not record f or ff
A classic mode allowing to play up to 6 techniques of your choice using keyswitches
A random texture generation mode with, for each of the 6 techniques of user's choice, a control of:
- the event density
- their volume
- the velocity range
- spatialization of events via an XY pad
18 presets
The ability to link volume, velocity and density controls
The ability of activating, deactivating and reset round robins
The control of the attack and the release
The ability to automatically route techniques or microphones on separate channels
System requirements
Requires the full version of Kontakt 5.8.1 (or Kontakt 6)
Size: from 0.60Gb to 1.75Gb