Mackie Announces All-New OnyxGo Mic for Ultra-Compact Recording
Find Your Voice with the Ultimate Clip-On Microphone and Companion App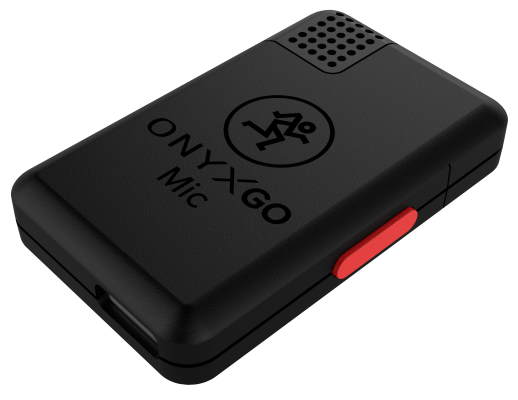 Mackie, a producer of high-quality professional audio products, announces its new OnyxGO Mic, an integrated, compact, wireless mic and app ecosystem that supports on-the-go interviews, podcasting, live streaming, and calls. This new microphone was created with busy performers and content creators in mind and includes real-time stereo monitoring, recording, and in-app control via the OnyxGo app.
The OnyxGo Mic is a completely self-contained, no-fuss wireless mic system, with no need for a receiver or added cables. Users can simply pair it, clip it on, and they'll be ready to rock. The OnyxGO app makes it possible to record users' voices from the OnyxGO Mic as well as any incoming calls. Uniquely, The AI-powered OnyxGO app will automatically generate a full transcript and subtitle file for any recording.
"The OnyxGo is the best grab-and-go mic for wirelessly transmitting high-quality audio into a smartphone, with robust app-based control and features for easy audio enhancement," said Matthew Herrin, Product Marketing Manager. "The small design makes the OnyxGO Mic easily portable, packing in professional quality, and a suite of voice-enhancing tools for any creator on the go."
The OnyxGO app is a content creation studio in your pocket. With a host of recording options and processing at users' fingertips, they'll be ready to go from concept to publish. Users will be able to take advantage of powerful features like built-in noise reduction, professional vocal processing, voice-changing effects, 5-band EQ, and reverb.
Equipped with a headphone output, the OnyxGO Mic enables users to monitor everything even if they step away from their phone, while also functioning as a wireless adapter for wired headphones or the included CR earbuds. There is also a convenient button to control the OnyxGO app.
This wireless system is perfect for journalists out in the field and all content creators taking advantage of a creative spark from anywhere, and more.
The OnyxGO Mic will be sold in 1st Quarter 2022.