New KLOTZ guitar patch KPK with PanHead plugs

Space on pedalboards is always very limited - that's why we have added our pancake angled jack plugs in a flat housing with a classic look to our KPK series. Available now are handy sets of 2 in the variants straight-straight, straight-angled and of course angled-angled. The patch cables are each manufactured with KLOTZ pancake angled jack plugs and are supplied in the proven lengths of 30, 60 and 90cm. The straight-straight types are also available in lengths up to 1.5m.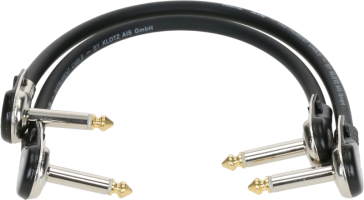 The KIK version for pedalboards with short rubber grommet and crimped strain relief withstands forces of over 200 Newtons and saves an immense amount of space. As before: reliable, mechanically highly resilient and good capacitive values. The high-quality, oxygen-free copper cores (purity 99.95 %, category C10200 in the OFHC group) are encased in a lead-free PCV sheath, a conductive plastic shield and an extremely effective copper helix shield. The KPK series is thus extremely flexible, extremely robust and very space-saving - of course as always - "Made in Germany" with the 6-fold KLOTZ quality control according to ISO 9001:2015.