Audio-Technica Appoints LVX Marketing as Manufacturer's Rep Firm for California, Nevada and Hawaii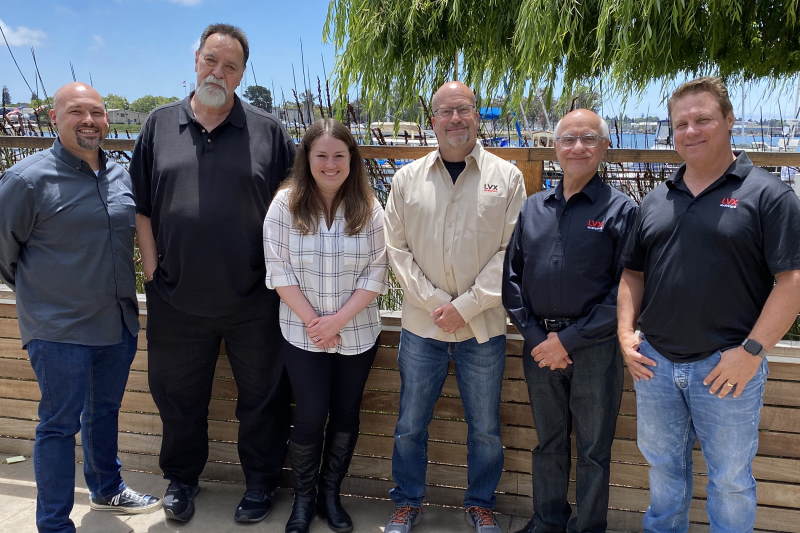 Pictured L to R: Greg Shade, Audio-Technica Territory Manager, Professional Markets; Leslie Butts, LVX Marketing Senior Account Manager, California – Arizona; Kaylee Kainrad, Audio-Technica Applications Engineer; John Hernandez, LVX Marketing CEO; Ed Ulibarri, LVX Marketing President; and Larry Garcia, LVX Marketing Commercial Sales, Southern California – Arizona.
Audio-Technica, an innovator in transducer technology for over 50 years, announces the appointment of system solutions provider LVX Marketing Inc. as its new manufacturer's representative firm for the states of California, Nevada and Hawaii, effective July 1, 2021.
Multiple award-winning firm LVX Marketing was founded by industry veterans John Hernandez and Ed Ulibarri. They provide a full spectrum of services, from consulting and marketing to sales training. Their goal is to provide the finest service in the industry to manufacturers and commercial and retail clients, serving the needs of today's diverse business world by building bridges between manufacturers, integrators and re-sellers. LVX represents a wide selection of quality products, with an emphasis on bringing new groundbreaking technologies to market.
President Ulibarri and CEO Hernandez will be joined by a dedicated sales team in representing Audio-Technica to the market in these territories. Audio-Technica is now added to LVX Marketing's current brand roster, a partial list of which includes Alcons Audio, ATS Pro, FBT, Furman, Gamma, iPort, James Loudspeaker, Lab.gruppen, LEA Professional, Midas, Sonance, Tannoy and TASCAM on the commercial side; and D'Angelico, EBS, Gravity, Hosa Technology, Kawai, LD Systems, NUX, Pigtronix, Source Audio and Supro on the MI/retail side.
Reid Peterson, Audio-Technica Executive Director, System Solutions, notes, "We are pleased to work with LVX Marketing in the growing California market. Ulibarri, Hernandez and their entire team have a proven track record and will use their years of experience to represent the A-T product line."
John Hernandez, LVX Marketing CEO, remarks, "Our role at LVX Marketing is to be the connecting tissue between manufacturers, integrators and re-sellers, and we have taken care to build a brand roster that serves the needs of the marketplace. Audio-Technica's reputation is very strong throughout the industry, and we are thrilled to add them to the diverse list of brands that we represent."