Thomann Keys & Frequencies

In March 2019, the world's top YouTubers in the Synthesizer field gathered together in Treppendorf for a very successful event: #TSR19 – Thomann's Synth Reactor. This year, we needed to improvise and organised an event that is equally social, dynamic and exciting but fully ONLINE. The good thing about this: it's live, it's interactive and it's free to attend for all of you! The Keys & Frequencies event is designed to offer a live platform to anyone interested in synthesizers and related topics, where you can get together, talk shop, connect and forge long-lasting and mutually-beneficial relationships.
The carefully-curated event will be hosted by Thomann and several leading Brands, such as Korg, Nord and Moog, just to name a few, and will feature some of the synth & electronic world's most exciting Artists & Creators including Cuckoo, Look Mum No Computer and BoBeats. Get ready for new product presentations, performances, talks, workshops and more.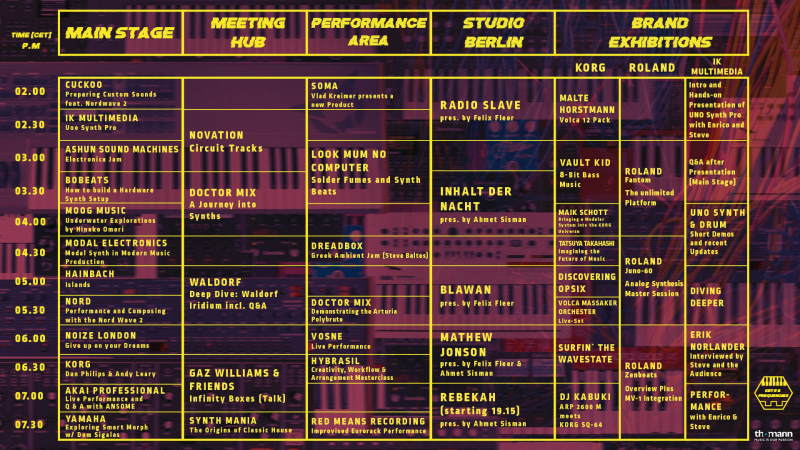 Promo Codes for Deals & Discounts
Our participating brands teamed up with Thomann to offer some nice deals & discounts during this event.
Receive an 8% DISCOUNT on the whole product range* of the following brands: Nord, KORG, Moog, Waldorf, Akai, SOMA, IK Multimedia and Swissonic.
*except for the SOMA Pulsar. And for KORG, only these products: Opsix and Wavestate.
Plus, Waldorf is offering its Waldorf Edition LE for free – for every visitor of the event. And SOMA will offer the SOMA Ether V2 for free with the purchase of The Pipe at Thomann (for its regular price).
These deals will run from 3/27/2021, 2pm to 3/28/2021, 11:59pm inclusively. Promo Codes will be announced ONLY by the brands themselves, DURING their sessions and only on the Run The World.
Register for the event here.