Kurzweil announces the KM88 MIDI Controller Keyboard

The Kurzweil KM88 is a desktop driven 4-zone midi controller keyboard with an 88-key hammer action keyboard and offers the best of both worlds, featuring a combination of physical and virtual controllers. The KM88 can be easily configured using the editor software, and various configurations can also be saved as presets. There fore the KM88 perfectly adapts to your way of creating in any situation.
Express yourself on the 88-note, fully weighted Real Piano Hammer-Action keys. Tailor the KM88 output response to best suit your sound source and playing style via 7 selectable key velocity maps.
Create custom split and layer combinations with up to 4 independent zones, each with its own controller assignments. Store each configuration as its own "Multi" for easy recall.
Navigate through your user Multis via the programmable front panel switches.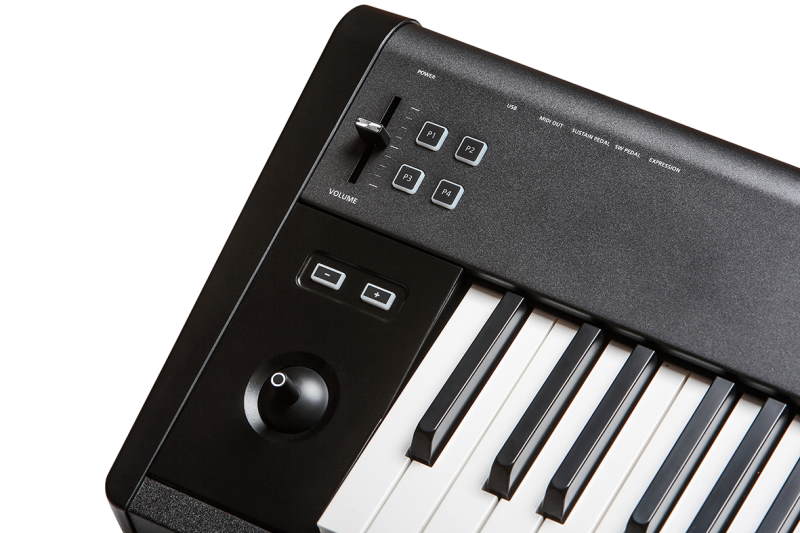 Create up to 8-note chords that can be triggered from any single key on the keyboard. Pitch and modulation can be controlled on a programmable XY Joystick. Programmable slider and six buttons permit custom controls such as volume, transposition, multi switching, zone muting and more. Assign front panel buttons to MMC Play/Stop and remotely control your DAW transport. The KM88 offers two switch pedal and one continuous controller pedal input – all user-programmable.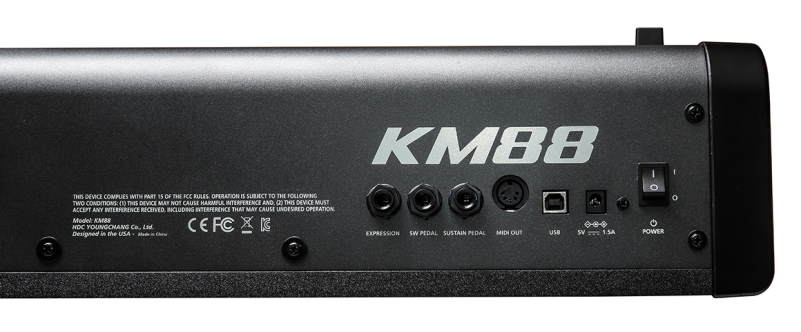 Create custom Multi combinations comprised of up to 4 zones, program change, key range and controller mapping. Expand your control with the KM88's host of virtual controllers – 9 sliders, 9 knobs and 9 switches per zone. Cross-platform compatibility for Windows and Mac OSX.
Technical Specifications
Keyboard
88-key, fully-weighted action with velocity sensitive adjustable keys (RPHA)
Factory Multis: 8
User Multis: 120
Multi Zones: 4
Controllers
1 pitch/modulation joystick
1 slider
6 switch buttons
2 switch pedal inputs*
1 continuous control pedal input*(*pedals sold separately)
Software Editor
External editor for Mac OSX and Windows PC
MIDI: OUT
USB: Type B
Included: Cubase LE, USB cable, music stand
Height: (4.9″) (12.4 cm)
Depth: (12.5″) (31.7 cm)
Length: (54.5″) (138.5 cm)
Weight: (38.6 lb) (17.5 kg)
Power: USB-powered
External Power Supply, 5VDC 1.5A (sold separately)
Auto-power off (power saving technology)