Mackie Thrash212 GO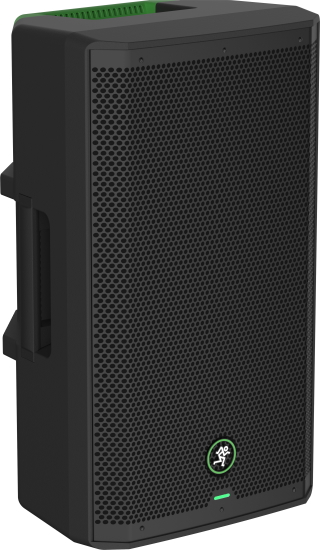 Mackie, a company with expertise in professional audio products, announces a revolutionary development to their popular Thrash loudspeaker series, the Thrash212 GO - a 300W battery-powered 12" loudspeaker that allows high-output professional sound to go anywhere, whether you're a musician, working DJ or live event producer. Building on the popular battery-powered 8" Thump GO, Mackie Thrash212 GO is a serious, high-output 12" loudspeaker with up to 10 hours of playtime from the swappable, rechargeable battery. Designed as a solution for countless setup challenges, Thrash212 GO lets users bring iconic Mackie sound to remote outdoor gigs, non-traditional venues with questionable power options and beach parties that run late into the night.
While it's portable and light enough to carry with four built-in handles, Thrash212 GO is not a tiny speaker. That's how Mackie likes it. Packing a 300W Class-D amplifier, Thrash212 GO is all about big loudspeaker performance - the kind of raw power and clarity that musicians, DJs and discerning users expect from Mackie, now without the need for external power.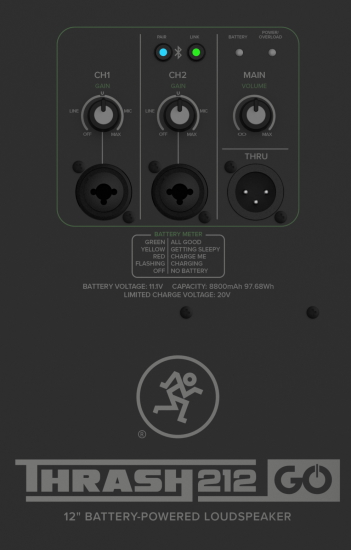 Featuring Bluetooth connectivity for music streaming and stereo linking, Mackie Thrash212 GO makes it easy to connect two full-size, 12", 300W loudspeakers to a laptop or smart device for a totally wireless, pro-level music playback setup that's ready in seconds. It's all the convenience users typically associate with battery-powered consumer speakers, now brought to the world of serious professional audio by a brand trusted worldwide, without compromise. When Mackie released SRM portable loudspeakers in 1999, it was a revolutionary product that expanded what's possible for DJs, musicians and live sound engineers. Thrash212 revolutionizes the industry again, bringing impactful sound to remote places.
"Battery-powered products are everywhere these days from our cars, phones, laptops and headphones to our portable music listening devices. One setting that has not really benefited from this battery-powered revolution, however, is event spaces - particularly remote and/or large events where power is not readily available," said Matt Redmon, Director of Product Marketing. "With those settings in mind, we leveraged our decades of loudspeaker design into a battery-powered, Bluetooth-capable loudspeaker: Thrash212 GO."