Audio-Technica at InfoComm 2023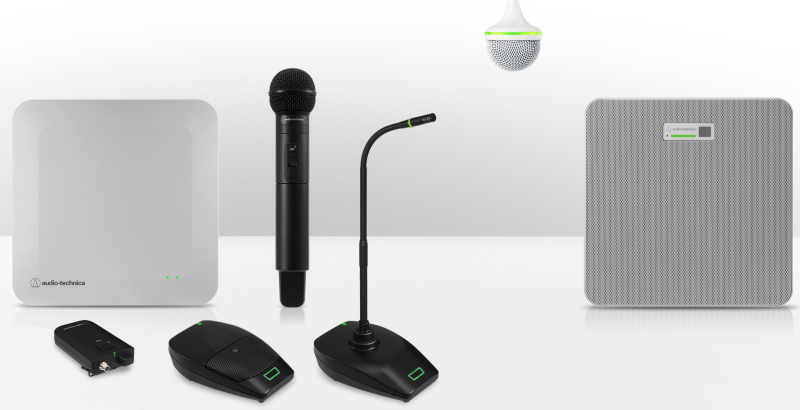 Audio-Technica is displaying its full range of system integration solutions at its exhibition booth (#3554) at the upcoming InfoComm convention in Orlando, June 14-16, 2023. Visitors to the booth will have the opportunity to meet one-on-one with A-T product specialists who can explain the features of each product or system as well as the benefits offered to the installer and the end user.
A-T is displaying its ATND1061DAN beamforming ceiling array microphone (which features recently announced Microsoft Teams and Zoom Rooms compatibility when paired with a Q-SYS bundle); the new Engineered Sound Wireless (ES Wireless) line, which offers a specialized ESW-R4180DAN eight-channel Dante-enabled receiver and a choice of four transmitters to suit a wide variety of applications; the standard Engineered Sound line, a modular microphone system designed for professional sound reinforcement and other commercial sound applications; the ES954 Hanging Microphone Array, an ideal, cost-effective solution for huddle rooms, conference rooms and other meeting spaces; and the fourth-generation A-T 3000 Series wireless system, acclaimed for its power and flexibility to operate within the congested UHF spectrum (available in two frequency bands – DE2 [470–530 MHz] and EE1 [530–590 MHz] – that provide a class-leading 60 MHz tuning range).
Additionally, A-T has a demo area featuring live remote sessions with A-T Specialists from the Audio-Technica U.S. Headquarters. Sessions will cover the ATND1061DAN beamforming ceiling array microphone (with Microsoft Teams and Zoom Rooms Q-SYS bundle compatibility) as well as the ES Wireless system. Visit the booth for times and availability.