Martin Audio APAC distributors sample new Generation AV Experience Centre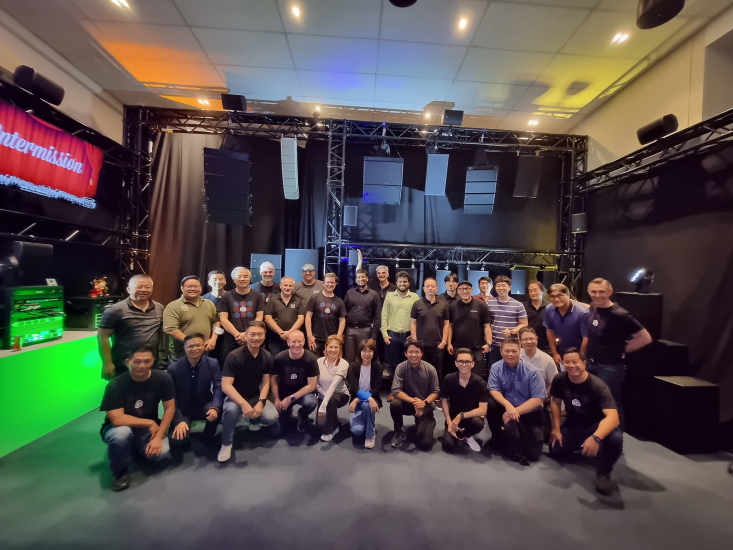 Generation AV, who provide sales and technical support for Martin Audio across the APAC territories, recently hosted their first Martin Audio APAC distributor meeting in Singapore, with over 30 business partners from across Asia Pacific attending. This provided an opportunity for representatives to network, connect, learn, and sample the latest products and technology from the British manufacturer - as well as share their successes and experiences.
There was an additional incentive to attend, since the meeting coincided with the launch of Generation AV's new Experience Centre in Singapore, which will act as the main hub for all distributors and their clients to gather and be exposed to the latest products from Martin Audio. Distributors and clients alike can now immerse themselves in the company's signature sound and experience the impeccable output that the products produce.
In terms of product showcase, the introduction of the new FlexPoint series and TORUS 8 to the region provided the undoubted highlights. This was the first time all distribution partners had the opportunity of hearing these products … and they did not disappoint. Dom Harter, Managing Director of Martin Audio, and Bradley Watson, Martin Audio Global Sales Director, were in attendance to lead the demonstrations - and in addition to the product demos, there was plenty of discussion on future roadmaps, operations and business in general.
"Martin Audio recognises one of our biggest potentials for growth today is in Asia, which is why we made the investment in the Experience Centre alongside Generation AV," said Harter, addressing the assembly. "Having all our partners in one location for the distributor meeting, to share and recognise their achievements, was just incredible."
Dave McKinney, Generation AV Managing Director, added his thanks to all distributors for making the journey to attend. "Due to the success, this will now become an annual event," he assured. "However, we look forward to welcoming partners with their customers during the course of the year."
At the event Martin Audio and Generation AV presented awards to the top-performing distributors in Asia Pacific in 2022, encouraging them to continue their efforts in building the brand in their own particular markets.