Audio Brands Australia is new Fohhn distributor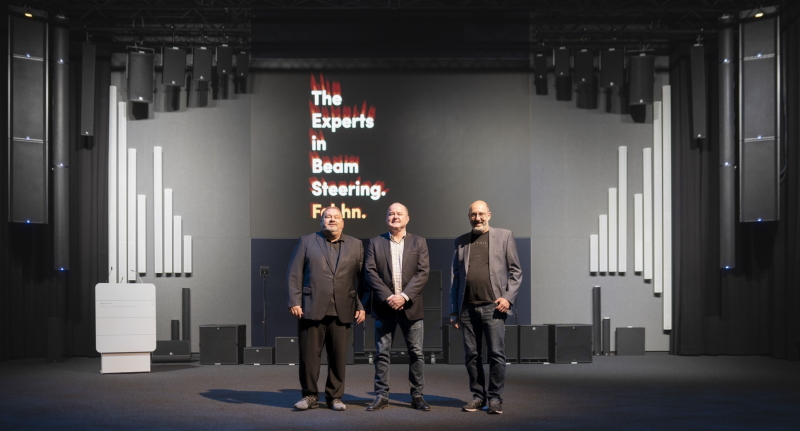 L-R: Uli Haug, Don McConnell, Jochen Schwarz
German sound system manufacturer Fohhn has made Audio Brands its exclusive distributor in Australia. The sales and support agreement with the Sydney-based distributor applies from January 2023.

Fohhn Audio AG has been developing and producing professional audio systems for the world market in Germany since 1993. The company is best known for its solutions with Beam Steering Technology, which enables the control of sound dispersion via mouse wheel. In addition to around 100 loudspeaker models, the portfolio also includes the in-house developed digital system amplifiers and the corresponding software for simulation, control and calibration. Visually inconspicuous integrated Fohhn systems can be found in conference rooms, airports, churches as well as Europe's largest opera house.

Audio Brands Australia is a distributor of consumer and professional audio brands, focusing on the installation and production markets. After visiting Fohhn's headquarters in Nürtingen near Stuttgart, Managing Director McConnell stated, "I knew Fohhn were leaders in their field, but nothing prepared me for what I heard and saw. The systems and engineering are first-class and backed by a team of passionate people who really know and understand their products and the applications. We're really looking forward to building on the work that has already been done in Australia and introducing Fohhn to a wider range of customers."

Fohhn's board member for marketing and sales, Uli Haug, is also looking forward to the cooperation: "With years of experience, technical expertise, proximity to the market and absolutely practical support for customers, Audio Brands is the ideal distributor for Fohhn products and services. We are looking forward to working with the ambitious team and to supporting existing and new customers together."