Tascam To Show Latest Products at ISE 2022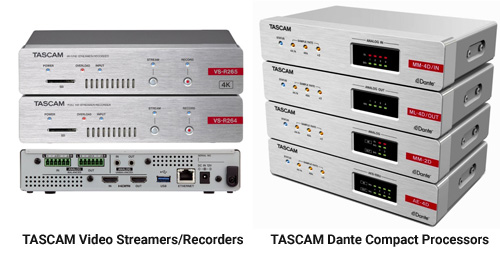 Tascam will again be exhibiting at ISE and can be found in Hall 7, where the company will be presenting its products for AV installations, as well as several products that have been released over the past year. Visitors can also look forward to seeing what Tascam engineers have just worked out and plan to show exclusively in Barcelona.
Products that support PoE / PoE+, including the Tascam Dante Compact Processor range (MM-4D/IN, ML-4D/OUT, MM-2D, AE-4D) and the TASCAM VS-R265 and VS-R264 Video Streamer/Recorder will also be shown at the booth working together with the Netgear M4250-10G2F-POE+ switch.
Tascam is a Netgear Pro AV Partner, and Netgear will also include Tascam AV products on their booth (3J85), along with their range of managed switches for AV-over-IP applications.
The MM-2D Dante Interface with internal DSP and TM-95GN gooseneck microphone from Tascam can also be found on the SY Electronics booth (2H450) as part of their PoE Meeting Room solution.
The Tascam team is looking forward to having face-to-face conversations again after such a long time and cordially invites ISE visitors to meet them at the company's booth.