KLOTZ PowerLink PDR 19"
Power distributor & connection cables for 1:1 sub-distribution of 16A loads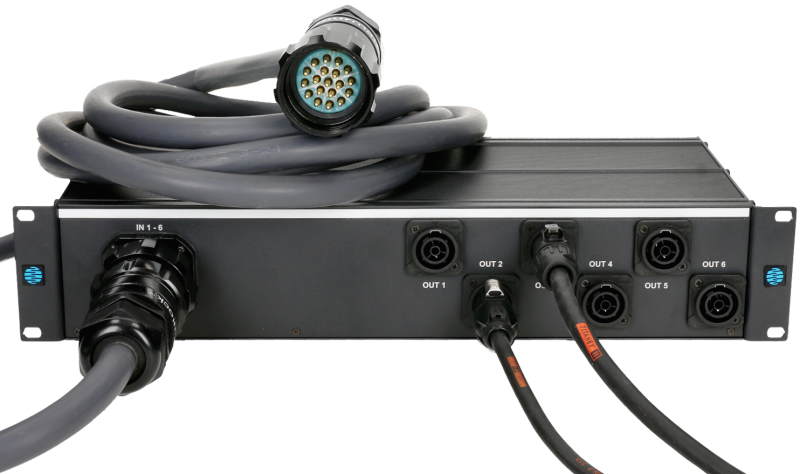 KLOTZ AIS presents a new 19" power distribution rack with Spcapex compatible RMP power multicore and powerCON TRUE1 connectors, for lossless sub-distribution of 16A loads for live & stage applications.
The 19" PDR (Power Distribution Rack) series is specifically designed for the event industry, theatre and television production. The robust 19" aluminium housing is powder coated, laser engraved and fitted with high quality power & load connectors. With the PDR Power Distribution Series, the six discrete 16A circuits of a Socapex compatible load multicore can be distributed to one powerCON TRUE1 socket each.
In contrast, six discrete 16A circuits, each supplied via a powerCON TRUE1 power cable, can also be bundled into one Socapex-compatible 6-channel power multicore. In its maximum configuration (PDR12N..-SOC), up to 12 discrete 16A circuits can be distributed or bundled from or to two Socapex-compatible load multicores on only 2 RU. The quality of the PDR series is tested according to VDE 0701-0702. PowerLink 19" power distribution units are available with either 6 or 12 channels.
To match, KLOTZ AIS offers mechanically heavy-duty power cables of the PT1 and PT2 series. Based on the rubber sheated TITANEX cable, these ProAVM connection cables, specially developed for outdoor use, are the ideal choice when robustness and high reliability are required.

Fitted with lockable powerCON TRUE1 or PowerTwist TR1 connectors, these cables are not only dust- and water-protected acc. to IP65, but also comply with the BauPVO class ECA to EN50575 as well as the IEC 60245-4 type 66 standard. A generous conductor cross-section of up to 3 x 2.5 mm² provides a high current carrying capacity, the outer sheath made of cross-linked elastomer ensures flame retardancy, oil and ozone resistance as well as increased impact resistance and works over an exceptionally wide temperature range of -50°C / +90°C in installed operation. In combination with the PowerLink PDR power distributor, KLOTZ AIS offers an extremely reliable power distribution system that is just as suitable for demanding use at live events as it is for permanent outdoor installation.
In order to be able to deliver the KLOTZ customary "made in Germany" quality, all KLOTZ AIS power cables pass through the EOL (end of line) test desk for final inspection as the last production step before shipping. A comprehensive test for interruption, reverse polarity, short circuit as well as measurements of the protective conductor resistance and isloation resistance according to DIN VDE 0701-0702 verify flawless operation and compliance with safety standards.