Mackie mRing and CreatorSling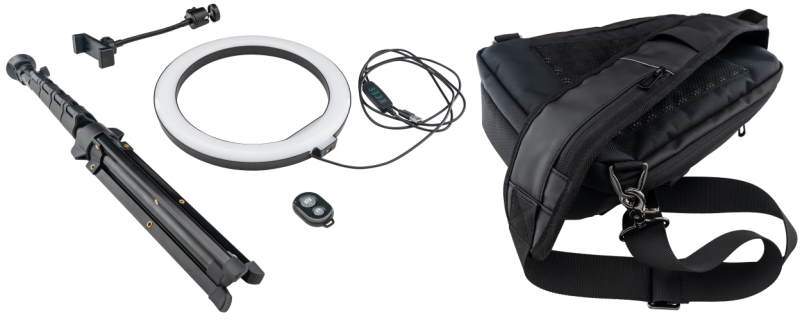 Mackie, a producer of high-quality professional audio products, today announces its new creator accessories, mRing and CreatorSling, making it easier than ever to create anywhere and everywhere. "Content is everywhere, and inspiration to create can be found anywhere" shared Matt Redmon, Director of Product Marketing, "and now our customers can complete even more of their content creation toolkit from their favorite audio brand."
The mRing-10 is a 10" diameter ring light perfect for content creators, remote work, streaming, and more for stationary setups. With the included telescoping stand and Bluetooth remote, users can start their video right out of the box. Price: $59,99 (MAP).
For a mobile, compact option, the mRing-6 measures 6" in diameter and comes equipped with a battery-powered ring light, convertible selfie stick/stand, and Bluetooth remote. Price: $49.99.
The CreatorSling is an ultra-comfortable bag for on-the-go creators. Equipped with a built-in USB cable and space to hold devices up to 12" in size, creators can pack their gear and hit the road, making it to their destination prepared and in style. Price: $69,99.
The mRing-10, mRing-6, and CreatorSling will be sold on Mackie.com and at participating retailers.