Tascam enhances Model 12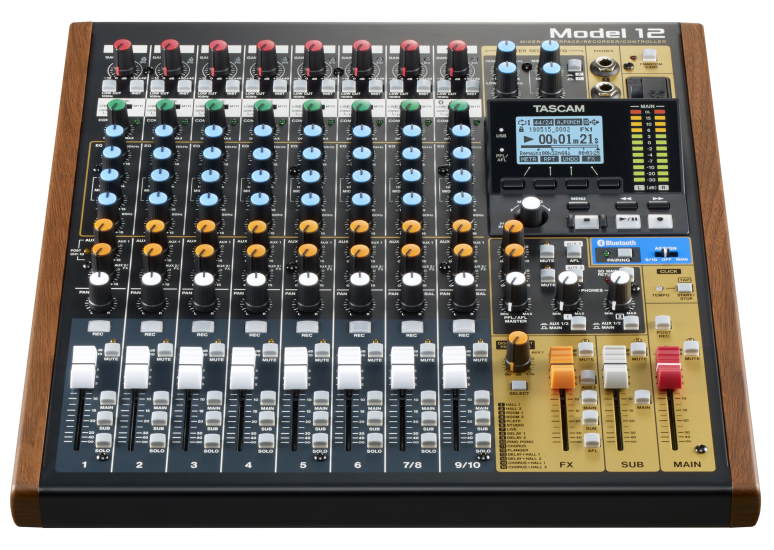 Tascam has released the latest version 1.30 firmware update for its Model 12, the sophisticated desktop tool for music and multimedia creation that combines a mixer with a multi-track recorder, USB audio/MIDI interface and DAW control functions. This free update expands the unit's DAW control capability by adding support for three additional software products (Studio One, Reaper and Cubasis 3.3) to an already extensive array of DAWs. With control already supplied for Ableton Live, Logic, Motu, DP, Cubase, Cakewalk and Pro Tools, this latest firmware update increases support to 10 well-known industry standard DAWs, all of which can be controlled via HUI/MCU protocol using the mixer's hardware buttons, knobs and faders.
Further improvements to the already feature-packed Model 12 included with this latest firmware update includes a function that allows users to monitor the master signal before the main fader (pre-fader monitoring). Prior to the update, the sound of the two headphones outputs was muted when the main mix was muted (post-fader monitoring). In addition, users of the Model 12 now have the ability to attenuate the level of the main and sub outputs by up to 40 dB. This makes it easier, for example, to use small PC speakers for monitoring without overloading them in the lower range of the master fader. These changes are all further steps towards making the Model 12 the perfect choice for the professional..
The update is available now for existing Model 12 users to download free of charge from the Tascam Europe website.