KLOTZ DMX5N3 and DMX5W3 cable drums
New DMX cable drums with fully wired XLR 5p. connectors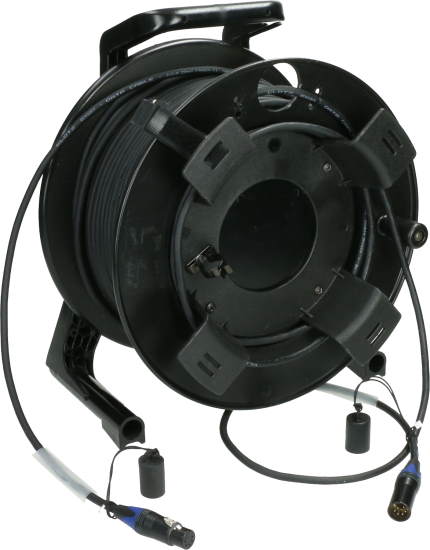 KLOTZ DMX5N3
KLOTZ now supplies two new DMX cable drums with fully wired XLR 5p. plugs. Due to the 5-pin assignment of the XLR connectors, the cable drums are 100% compatible with the DMX-512 standard.
KLOTZ uses the tried-and-tested DC422CY data cable with a conductor cross-section of 4 x 0.22 mm2 (AWG 24) and tightly stranded wire pairs as the DMX cable. The solid construction with a jacket made of resilient special PVC and a double shielding made of tinned copper braiding and additional AL/PET foil ensures smooth performance and perfect EMC values. Low capacitance and the precisely defined characteristic impedance of 110 ohms enable the transmission of DMX signals even over very long distances. Thanks to the 5-pole assignment, two DMX signals can alternatively be sent via one cable. With an adapter, the two signals can be split up again as required.
While the DMX5N3 cable drum is equipped with black chromed XLR 5p. plugs and XLR protective caps, the DMX5W3 cable drum provides high-quality dust and splash-proof XLR 5p. plugs according to IP65 with gold-plated contacts.
The DMX5N3 and DMX5W3 cable drums are made of break-proof plastic and are equipped with a locking brake. At the outer winding core, the cable end is flexibly available in a length of 2m. Both cable ends are also provided with transparent shrink tubes for free labelling. Both cable drums are available in lengths of 50m, 75m and 100m - of course, as always, "Made in Germany" with the 6-fold KLOTZ quality control according to ISO 9001:2015.