KLOTZ – Professional microphone cable drums
M1 microphone cable drums with XLR 3p. by Neutrik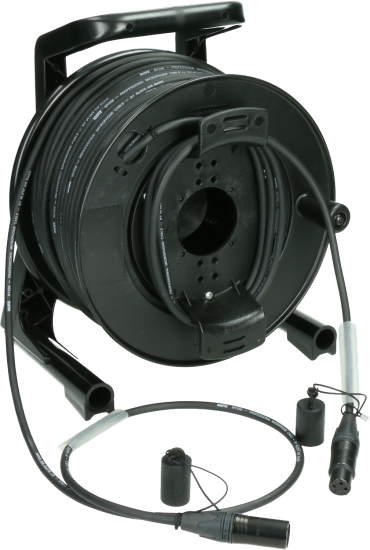 The M1 cable drums are the perfect solution for live events. Compact in size and light in weight - the 50 m version just weights 5 kg! The cable drum is made of break-proof plastic and is equipped with a locking brake. The XLR male cable end is available on the outside of the reel core in sufficient length and both cable ends are provided with transparent shrink tubes for free labelling.
While the M1X cable drum uses black chromed XLR plugs with protective caps, the M1D cable drum uses "heavy duty" full metal XLR plugs according to IP65.
KLOTZ uses the well-known and proven MY206 microphone cable with a conductor cross-section of 0.22 mm2 and black PVC outer jacket - super-flexible yet resistant to large temperature fluctuations. The dense copper spiral shielding ensures reliable shielding with maximum flexibility of the cable - as always, "Made in Germany" with our 6-fold KLOTZ quality control according to ISO 9001:2015.