Arturia reissues sleek limited edition inverted MiniLab MkII
The nocturnal music maker, available now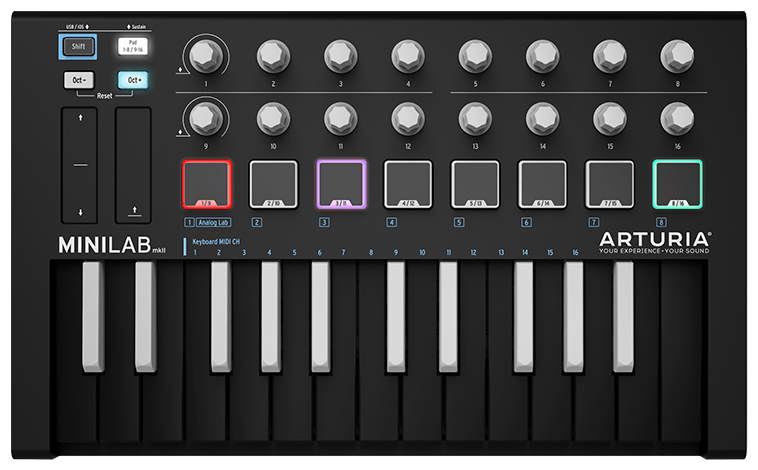 With switched black and white keys, MiniLab MkII Inverted Edition is designed for musicians who see things differently. Underneath its unique color scheme, it features the same hands-on control, high quality keys, and powerful included software that made the original MiniLab MkII such a hit with musicians and producers the world over. Thanks to its small size and versatile feature set, it's the perfect creative addition to any studio setup or live rig.
The expressive 25-note keyboard gives a great feeling with velocity-sensitive keys. They are a must-have feature for anyone looking to put their heart and soul into the music they make.
The endless encoders consist of 16 rotary knobs, including 2 clickable encoders. They make MiniLab MkII one of the best small controllers for softsynths and plugins.
MiniLab MkII comes complete with a stunning selection of virtual instruments and production software for free. Craft inspiring tunes, pumping beats, and professional mixes in no time.
Analog Lab Intro - Hundreds of sounds from the award-winning V Collection suite, from analog synths to transistor organs.
Ableton Live Lite - An introduction to one of the most intuitive & popular production platforms around, you'll be crafting slick pro-grade tracks in no time.
UVI Model D - Capture the sound of the famous Steinway Model D grand piano right at your fingertips, sampled in exquisite detail, and ready to play instantly.
Melodics free trial - A desktop app that adapts to your ability and style to help you get better at playing pad controllers, keys, and electronic drums.