TOA M-8080D Series – Digital Matrix Mixer System
A Matrix Mixer System for various locations and applications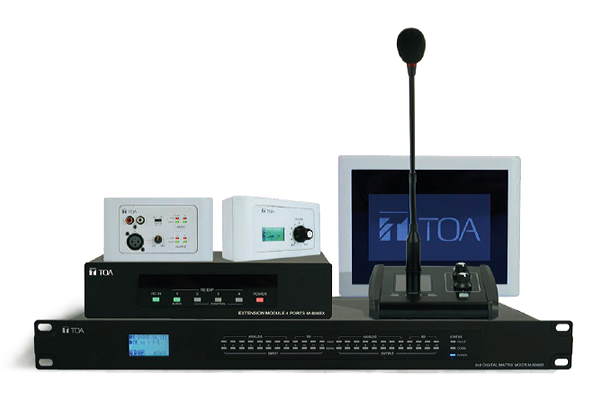 TOA's new M-8080D Series, a matrix mixer system, is dedicated to music, paging, discussion, and zone management solutions for commercial audio applications.
The M-8080D series is adaptable to very different sound environments making it a good choice for any commercial audio application requiring discreet background music in high sound quality, communication, and intelligible announcements in dedicated zones. Although the scalable and flexible system entails high-end technology, the M-8080D is intended for non-experts – easy to implement, to use and to control.
The scalable M-8080D series offers a large and flexible choice of In/Out options with remote devices for volume adjustment, paging management, routing, and I/O modules such as remote controls, touch screen panels and paging microphones.
Core of the system is the M-8080D matrix mixer that gives you flexible sound control and offers a large choice of I/O options such as 8 analogue IN, 8 analogue OUT ports. The scalable system can be extended by 4 digital IN and 4 digital OUT ports via system remote devices to 12 x 12 I/O. The matrix mixer comes with numerous DSP functions. Inputs can be modified with ducker, gain/phase, crossover, gate/expander, 5-band Equalizer, delay, limiter/compressor, matrix or feedback canceling. The output comes with mixer, crossover, gain/phase, 8-band equalizer, Limiter/compressor and delay.
TOA, manufacturer of high-quality sound solutions, fit an editor software to the system that allows for easy setting of the system to your needs, that can also be duplicated or modified easily. The system uses fix architecture for quick and easy operation. The intuitive GUI utilizes a familiar hardware-like layout to enable a fast-programming timeline and rapid hardware implementation.
With these features, the system can be set up for multi-audio services and sound distribution at a large variety of commercial locations ranging from restaurants, bars and other catering businesses to gyms, hotels, small retail stores or bigger shopping malls.