Ferncast GmbH and Broadcast-associés announced a strategic distribution partnership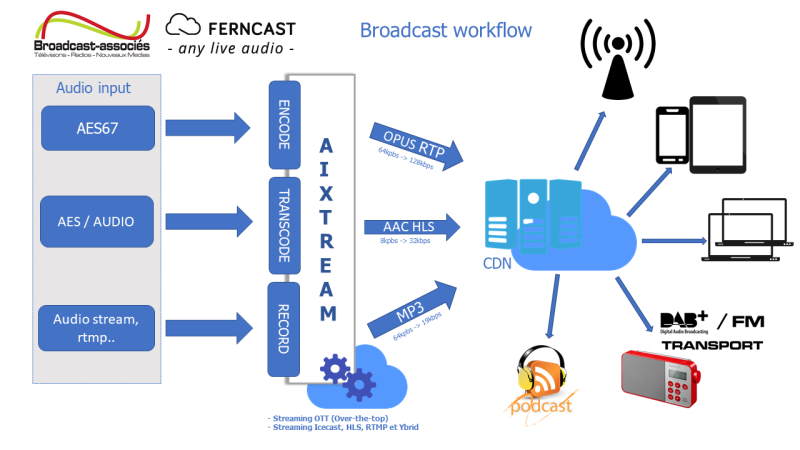 Ferncast GmbH, developer of innovative audio transmission software solutions for professional live audio applications, officially announces a sales and distribution partnership with Broadcast-associés in France and to add another premium distributor to its growing list of partners in Europe.
Broadcast-associés, « Media Architect », provides professional audio, video and lighting (LED) solutions for the French market. They focus on innovative and virtualized solutions for radio broadcasting. Broadcast-associés is offering now aixtream software, developed by Ferncast, an 'all-in-one' customizable software package for OTT streaming and SIP broadcasting in particular.
"In France, there is a growing demand for alternative and innovative solutions for audio distribution, contribution and archiving." said Fabrice Gauthier, CEO of Broadcast-associés. "Software solutions are customizable and scalable. Our customers are looking for flexible and future-oriented solutions and aixtream software is the perfect solution for their needs. In addition, the Ferncast team is friendly, professional, and reactive whenever we need it.'
Both Ferncast and Broadcast-associés are very excited about this new strategic partnership and the mutual benefits it will bring for both companies as well as for their customers.
aixtream is a fully scalable software, developed by Ferncast, running as server or VM installation and is available also as part of complete hardware packages.