KLOTZ expands FiberLink range with opticalCON QUAD connection cables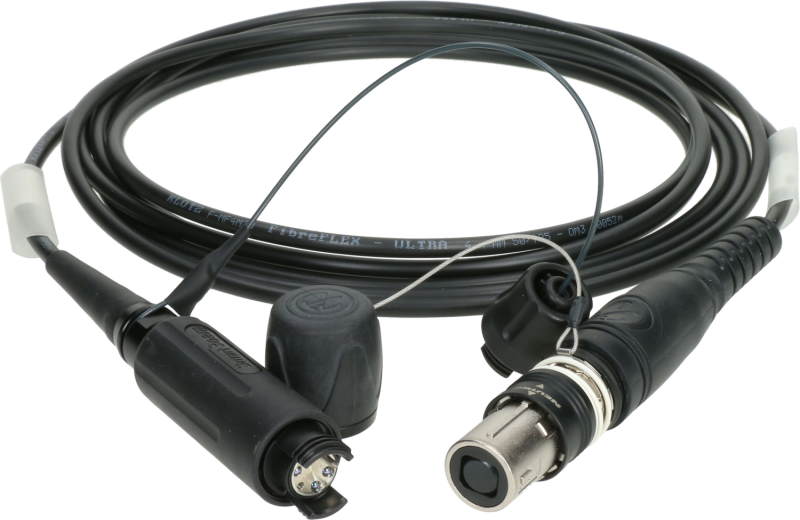 KLOTZ now offers preassembled FiberLink cables with opticalCON QUAD connectors in single-mode and multimode. Ideal for demanding outdoor use under extreme conditions such as on stage, in rental or broadcast applications and at temperatures from -40°C to 85°C.
The high-performance KLOTZ FiberFlex ULTRA cable with four fibres and PUR outer jacket transmits 10 GB/s in single-mode over lengths of up to 10,000 m, in multimode it transmits 10 GB/s over up to 550 m.
A highly flexible construction with 500 μm primary coating and 900 µm tight buffered fibre construction reliably protects the fibres (4 x 9/125 µm, OS2, 4 x 50/125 µm, OM3/4) from external influences and allows even the smallest bending radiuses with a cable diameter of just 6 mm.
Each individual glass fibre is surrounded by an extra-thick protective layer of acrylate. An extremely low attenuation of less than 0.21 dB/km in single-mode and 0.7 dB/km in multimode guarantees the best signal quality over the entire distance.
The robust metal housing of the opticalCON QUAD cable connector conceals a connector with four optical multi- or single-mode PC resp. single-mode APC channels, based on the renowned LC technology. When plugged in, the optical fibres are in physical contact. The automatically closing protective flap with silicone seal provides dirt and water tightness according to protection class IP65. Additional practical features are the proven push-pull locking and a very efficient strain relief.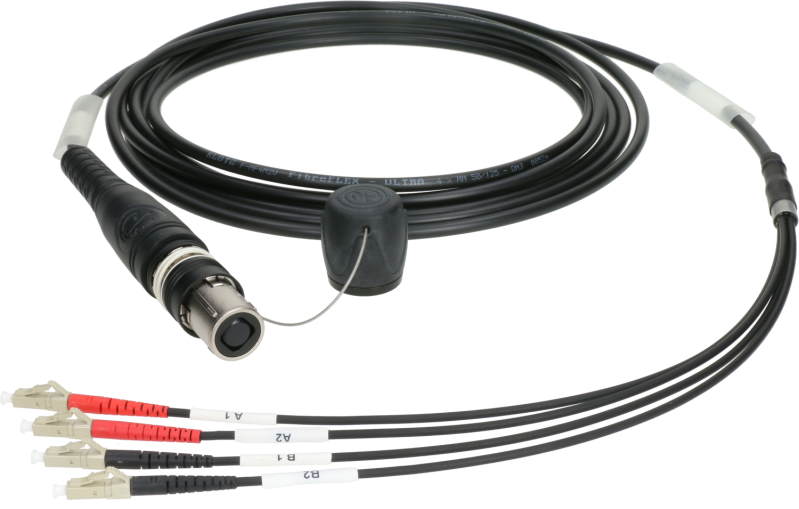 The range is rounded off by cables with the excellent SmartBeam QUAD or opticalCON QUAD connectors in single- or multimode.
For connection to active or passive components, KLOTZ also offers the FiberLink series with opticalCON QUAD connectors as common breakout solutions on LC/PC and SC/PC.