2wcom's MoIN Software is linking studio, distribution and streaming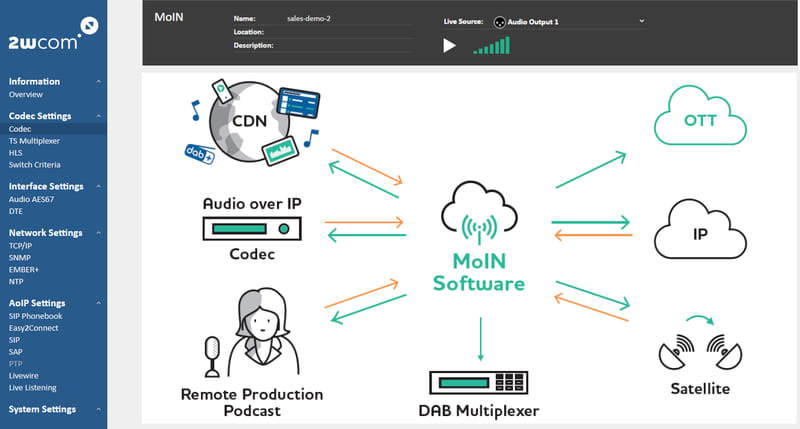 The MoIN Multimedia over IP Network software streamlines the digital transition. MoIN is flexibly integrable in any broadcast ecosystem. Due to its scalability, technicians can operate up to 512 channels on-demand. The software is available "full-blown" and for the studio, for streaming, or distribution. The solution provides professional IP-based audio network technologies for real-time streaming, routing, and mixing. The deployment is possible on hardware, VMs, and all major cloud platforms as a containerized service. Let's examine why broadcasters worldwide opted for the solution.
The protocol and audio transcoding feature of the MoIN software connects all hardware and software audio broadcasting technologies. For network compatibility, MoIN supports all major Audio over IP protocols and standards for internet interoperability and streaming, among others Icecast, HLS, EBU Tech 3326, AES67, or SMPTE ST 2110.

The DVB TS multiplexer allows the audio streams and the RDS to be combined individually into multichannel streams. Moreover, the DVB overhead management enables to deciding for "low latency "or "low bitrate overhead ". The reception of RDS and UECP data is possible via the RS232 interface or IP. If a synchronized output of RDS data and the audio signals is mandatory, the software can transport them together as ancillary date. Otherwise, the RDS/UECP data can be transmitted in separate PIDs. For monitoring technicians can chose between the decoded mode or as raw data mode.
When your studio content is ready, the MoIN software transcodes it and makes it available for further distribution via IP, Satellite, DAB, or to ingest the radio programs into CDNs and cable networks. For this purpose the audio quality is adjustable according to requirements; the server software includes codecs like PCM, all AAC profiles, MPEG variants, all Opus frame sizes, Enhanced aptX, Dolby+ and Dolby Digital+ or Ogg Vorbis.

Within a SIP network, MoIN manages bidirectional connections using a SIP phonebook (up to 450 entries possible) to simplify intercommunications across the networks. The easy2connect function enables reporters in the field to establish connections by one click and the negotiation of AoIP protocols as well as qualities happens automatically.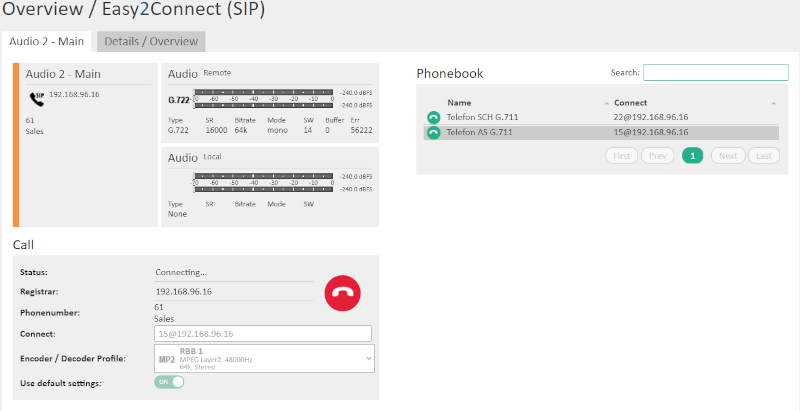 To achieve a synchronized playout at all receiving sites and between the networks MoIN provides several features for an exact clocking – such as Precision Time Protocol (PTPv2) and Network Time Protocol (NPT).
Error correction mechanisms guarantee transmission robustness even under stressful network conditions. Depending on the system on-site, operators can decide to activate Dual Streaming (SMPT ST 2022-7 conform), Secure Reliable Transport (SRT), Reliable Internet Streaming (RIST), the Pro-MPEG FEC or Stream4Sure. On top of that, up to three backup sources per decoder are available.