Recording-News
Hier finden Sie News zum Thema Studio- oder Live-Aufnahmen sowie alles über Produktionswerkzeuge wie Mischpulte, DAWs, Audioprozessoren, Plug-Ins, Mikrofone und Studiomonitore.
Dear Reality veröffentlicht Monitoring-Plugin dearVR MIX
Details
Dear Reality veröffentlicht Monitoring-Plugin dearVR MIX

Mit dearVR MIX bringt der Immersive-Audio-Spezialist Dear Reality seine bewährte Raumvirtualisierungstechnik jetzt auch in den Stereo-Mixing-Bereich. Das dearVR MIX AAX/VST3/AU-Plugin verwandelt jeden professionellen Studiokopfhörer in eine ideale Tonregie für Stereoproduktionen und versetzt den Nutzer durch Spatial-Audio-Technologie virtuell in den Mittelpunkt einer präzise simulierten Studioakustik. Mit dearVR MIX und der integrierten Spatial Headphone Compensation (SHC) lässt sich bei der Audioproduktion sicherstellen, dass ein Stereomix zuverlässig auf einer Vielzahl von Lautsprechersystemen übertragbar ist – unabhängig von der Produktionsart oder dem Musikgenre. Egal, ob im Studio oder unterwegs, dearVR MIX sorgt jederzeit und überall für eine akustische Referenz und einer Verlässlichkeit bei der Positionierung von Schallquellen und der Bewertung des Stereospektrums.
"Bei der Entwicklung von dearVR MIX ging es vor allem darum, bestmögliche virtuelle akustische Umgebungen für das Mischen über Kopfhörer zu schaffen", sagt Christian Sander, CEO von Dear Reality. "Die ganze Erfahrung, die wir im Bereich Spatial Audio gesammelt haben, kommt in diesem einzigartigen Plugin zusammen. dearVR MIX macht unsere Technologie allen Kreativen in der Audioproduktion zugänglich."
Das Plugin bietet drei erstklassige Referenz-Mischräume mit vier wählbaren Mono- und Stereo-Lautsprecherpositionen. Darüber hinaus kann jeder Mischraum an den eigenen Geschmack angepasst werden, indem man die Balance zwischen einer geringen spektralen Färbung und der bestmöglichen Externalisierung mit Hilfe des patentierten Clarity-Algorithmus von Sennheiser AMBEO steuert.
Mit dearVR MIX lassen sich, zusätzlich zu den virtuellen Tonregien, sechs alltägliche akustische Umgebungen, wie z.B. ein Auto oder ein Club, simulieren – alles, ohne die Workstation verlassen zu müssen.
Zusammen mit dearVR MIX führt Dear Reality für alle Virtual Monitoring Produkte das neue Spatial Headphone Compensation (SHC) Feature ein. Hierdurch wird das Übertragungsverhalten von aktuell 44 professionellen Studiokopfhörern auf die virtuellen Tonregien abgestimmt und eine modellunabhängige, stabile akustische Produktionsumgebung gewährleistet. "Durch die sorgfältige Berücksichtigung der Klangeigenschaften der einzelnen Kopfhörer gewährleistet dearVR MIX das beste binaurale Erlebnis mit dem höchsten Grad an Out-of-Head-Lokalisierung", erklärt Christian Sander. Jedes Kopfhörermodell wurde von Dear Reality in Zusammenarbeit mit erfahrenen Mastering-Ingenieuren sorgfältig analysiert, um eine Zielfrequenzkurve zu schaffen, die ideal auf die Raumvirtualisierung abgestimmt ist.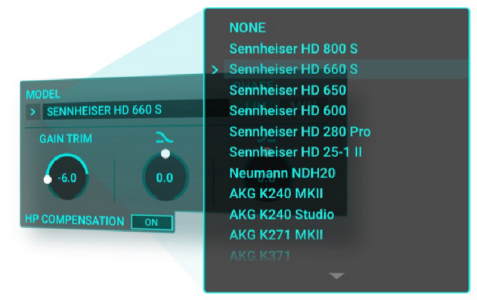 dearVR MIX ist nur über DearReality erhältlich. Bis zum 30. November 2021 profitieren Interessierte von einem speziellen Einführungspreis. Dear Reality bietet außerdem eine kostenlose 14-tägige Testversion,
Focusrite Offers System T Console Control of the RedNet MP8R
Details
Focusrite Offers System T Console Control of the RedNet MP8R

Focusrite has taken a major step in interoperability and the integration of third-party devices by collaborating with Solid State Logic (SSL) to offer SSL System T console users the ability to directly control the Focusrite RedNet MP8R remote-controlled mic preamp from the desk.
"The Focusrite RedNet MP8R is one of our highest quality mic pre's," says Focusrite Pro product manager Cameron Stevenson. "Its front panel and software control aspects make it very valuable in a live or studio environment where you might want to adjust the gain or set any of the parameters on stage or in studio." However, when working with a console, says Stevenson, a lot of engineers prefer working from a single platform as opposed to having studio control room or FOH control of the preamp parameters by way of RedNet control on a computer.
"To streamline that workflow," says Cameron, "we collaborated with SSL to allow the SSL System T console to seamlessly control our RedNet MP8R mic pre and all its parameters directly from the console. This simplifies workflow, allowing engineers to focus on their mix instead of worrying about the technology behind it." Along with direct console control, a paired SSL system T console can store and recall MP8R parameters with console scenes and showfiles.
Tom Knowles, SSL Product manager – Broadcast Systems, comments, "Enhanced interoperability through software updates is at the heart of SSL broadcast and System T, delivering features that allow operators to use AoIP products of their choice. Native console support for audio transport and connections management for Dante, AES67 and ST 2110 is an essential part of System T's advanced workflow. An obvious extension of this is integration with a variety of Mic preamps, allowing customers with an existing inventory to reuse IO boxes for different events and productions as they require. MP8R devices show up on the network in the same way as any Dante-enabled device. System T software can route individual mics immediately but also can configure these as logical instances for managed and secure access. When routed to a console channel path mic gain, pad and phantom power are immediately mapped to the channel strip for hardware and software control. Gains and controls are stored and recalled with consoles showfiles and scenes for precise operation in fast paced productions."
The RedNet MP8R is a 1U, eight-channel remote-controlled mic pre and A-D interface for any Dante® audio-over-IP network. Featuring network and power supply redundancy, RedNet MP8R is the ideal choice for providing mic pre's in critical-path applications in post-production, broadcast, live sound or the recording studio. The preamp exhibits high dynamic range, flat frequency response, and excellent common-mode gain performance. The MP8R's unique automatic gain compensation feature allows for a variety of flexible workflows; each mic pre feeds a pair of network transmitters – one directly fed by the mic pre, the other fed through automatically compensated DSP – making mic pre sharing simple. Front panel level indication is provided through 6-segment LED meters, while an OLED display indicates input gain and other system information.
With the control interface between the RedNet MP8R preamp and the SSL System T console, "Console users who want everything to be done from the desk now have an additional option," concludes Cameron.
Black Lion Audio introduces improved PG-1 mkII power conditioner
Details
Black Lion Audio mkII power conditioner

Boutique audio company Black Lion Audio announces the availability of its PG-1 mkII - marked as a 'numerical' replacement for its preceding PG-1 (POWER GRID 1) 1U rack-mount power conditioner with the same dimensions (W: 19"/48.3 cm, D: 9.8"/24.9 cm, H: 1.7"/4.3 cm), weight (10.6 lbs/4.8 kg), but benefitting from an improved overall look and an added (5V 1A) USB CHARGER port positioned on its front panel - as of December 1…
Anyone actively involved in professional music-making - onstage or otherwise - knows that it takes more than a few rack-mounted power outlets to inspire true confidence in a power conditioner. Clearly, acquiring a must-have piece of gear only to find it noisier than expected or missing high-frequency detail - or, worse still, having it fried by an unwanted power surge - are all far from ideal scenarios! Such sorry setbacks need not happen, however; Black Lion Audio is here to help, having long since been trusted to modify the best gear and make it even better, which is exactly what it took to create the PG-1 mkII - taking industry-standard designs, and improving them to the point of peak performance.
Power conditioning comes naturally to Black Lion Audio. After creating its original PG-1 (POWER GRID 1) as a confidence-inspiring, rack-mountable power conditioner premiering PG-99 Filtering Technology to improve upon the typical average of 85% found in other power conditioners at the same price point, the PG-1 mkII makes for a perfectly executed followup featuring that same technology and being built using premium Panasonic and Wima capacitors chosen for their superior execution in eliminating high-frequency noise that robs equipment of its peak performance. Indeed, in testing, the PG-1 mkII provides an average of 99.7% of noise filtering. Furthermore, combining that superior filtration with an impressive power absorption rating of 2,775 joules means that any connected gear - must-have or otherwise - is not only on the receiving end of quality power but protected from any unsafe scenarios, should they unfortunately happen.

Having said that, then, the PG-1 mkII provides a bank of eight switched, filtered, and surge-protected outlets on its back panel arranged as four groups - namely, ANALOG AUDIO OUTLETS (x2), 2x DIGITAL AUDIO OUTLETS (x2), and HIGH CURRENT OUTLETS (x2). Fortunately for that connected gear, the time-delayed ANALOG AUDIO OUTLETS and HIGH CURRENT OUTLETS always ensure that speakers and power amplifiers are the last to turn on and the first to turn off, thereby preventing the dreaded 'pop' that can occur if speakers receive power at the same time as sound sources.
By benefitting from an improved look befitting its highlighted mkII status, an attractive front panel provides two filtered UNSWITCHED OUTLETS for convenience alongside an added (5V 1A USB) CHARGER port for charging USB devices, as well as an XLR lamp connector and associated DIMMER control (clearly assisting in helping shed light on the situation in a variety of lighting conditions), while the centrally located VOLTAGE MONITOR makes real-time analysis available for all to see (with dedicated Ground OK, Wiring Fault, Clean Power On, Abnormal Voltage, and Protection On LED status) and hear (as an audio alarm announces unsafe voltage). Ultimately, users can rest easy knowing that the safety of their gear is at the considered core of the improved PG-1 mkII.
The PG-1 mkII is available to purchase through Black Lion Audio's growing global network of dealers/distributors.
Neuer geschlossener Kopfhörer von Austrian Audio: der Hi-X60
Details
Austrian Audio Hi-X60
Professioneller, geschlossener, ohrumschließender Kopfhörer für Recording, FOH, Mixing und Mastering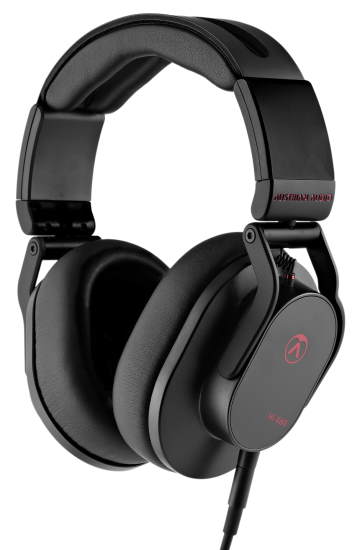 Austrian Audio erweitert sein erfolgreiches Hi-X6 Kopfhörer-Sortiment mit dem neuen Modell Hi-X60: ein geschlossener Referenzkopfhörer für professionelle Studioaufnahmen, FOH, Mischen und Mastering.
Wieder einmal kommen Design und Handwerkskunst aus Wien zur Geltung: Der Hi-X60 glänzt mit Passform und Komfort, und natürlich sorgt Austrian Audios 44 mm High-Excursion-Treiber fuer ein absolut transparentes, lineares und offenes Klangbild bis in die tiefsten Frequenzen.
Die beeindruckende Klangbühne des Hi-X60 offenbart jede Nuance ohne Verfärbung und begeistert Toningenieure wie auch Audiophile gleichermaßen. Die Entwicklung der Hi-X-Technologie ist das Ergebnis jahrzehntelanger Erfahrung und modernster Technik. So konnten durch die Reduzierung aller bewegten Massen des Hi-X-Treibers sensationelle Dynamik-Eigenschaften erreicht werden. Mit einer Impedanz von 25 Ohm können unabhängig vom Wiedergabegerät präzise Entscheidungen im Arbeitsprozess getroffen werden.
Die hochwertig geschlossene Bauform garantiert, dass Schall nicht nach außen dringen kann. So wird ungewolltes Übersprechen auf das Mikrofon in Aufnahmesituationen vermieden. Umgekehrt ist auch das Abhören in lauteren Umgebungen, wie z.B. an der Tonregie bei Livekonzerten aber auch beim Aufnehmen am Instrument, durch die hohe passive Geräuschunterdrückung sehr gut möglich. Je besser die Isolation des Kopfhörers desto weniger laut muss er in solchen Situationen betrieben werden, was das Gehör schont.
Alle Berührungspunkte sind aus weichem, langlebigem Memory Foam gefertigt und können mühelos ausgetauscht werden. Die durchdachten Ohrpolster bieten viel Raum bei geringen Außenmaßen. Eine clevere Aussparung im Kopfband des Hi-X60 entlang der empfindlichen Kopfnaht sorgt für eine deutliche Entlastung beim Tragen.
Bemerkenswerter Komfort und optimale Passform ermöglichen so ein ermüdungsfreies Arbeiten auch bei zeitintensiven Audioprojekten. Die Entscheidung, alle tragenden und beweglichen Teile des Hi-X60 aus Metall zu fertigen, unterstreicht die Bedeutung der robusten, faltbaren Konstruktion für den täglichen Einsatz.
Features:
Erstklassiger Komfort mit speziellen Ohrpolstern aus Memory-Schaumstoff mit langsamer Retention
Austauschbare Ohrpolster und Bügelpolster
Abnehmbares Kabel (1x 3m und 1x 1,2m im Lieferumfang enthalten)
Metallscharniere und Metallbügel für maximale Stabilität
Faltbare Konstruktion für einfache Aufbewahrung und Transport
Hergestellt in Österreich / Made in Austria
Preis: €349
Sennheiser bringt Studiokopfhörer HD 400 PRO auf den Markt
Details
Sennheiser Studiokopfhörer HD 400 PRO
Sennheiser stellt einen neuen professionellen Kopfhörer für das Mixing, Editing und Mastering vor: Der Studio-Referenzkopfhörer HD 400 PRO ist überall dort ein idealer Begleiter, wo es für die genaue Beurteilung eines Mixes auf eine natürliche und präzise Klangwiedergabe ankommt. Mit seiner leichten, offenen Bauweise und den weichen Velours-Ohrpolstern bleibt der Hörer auch bei langen Sessions bequem. Zwei steckbare, einseitige Kabel – ein Wendelkabel und ein Standardkabel – passen den HD 400 PRO an unterschiedliche Nutzungsgewohnheiten an.
"Wir freuen uns, den ersten offenen Studiokopfhörer der PRO-Linie von Sennheiser vorstellen zu können", sagt Gunnar Dirks, Produktmanager Professional Audio. "Beim Editing und Mixing ist man auf einen unverfälschten, detaillierten Sound angewiesen, und genau den bietet der HD 400 PRO. Mit seiner linearen und hochauflösenden Wiedergabe ist dieser Kopfhörer eine verlässliche Referenz für einen erstklassigen Mix."
Der HD 400 PRO verfügt über einen weiten Frequenzgang von 6 bis 38.000 Hertz, um Musikproduzent*innen das komplette Bild ihres Mixes zu liefern. Die von Sennheiser entwickelten 120-Ohm-Schallwandler verfügen über eine Membran aus einer besonderen Polymermischung, die in Verbindung mit den leistungsstarken Treibermagneten des HD 400 PRO tiefere, aber dennoch absolut klare und präzise definierte Bässe liefert. Der Klirrfaktor liegt unter 0,05 % (gemessen bei 1 kHz, 90 dB SPL).
Der HD 400 PRO gibt Audiosignale jenseits des hörbaren Frequenzbereichs wieder und eröffnet damit den Zugang zu nuancierten Obertönen und Raumklang in der eigenen Musik, bei gleichzeitig kräftigem und artikuliertem Bass.
Die Schallwandler des HD 400 PRO sind leicht geneigt und bilden auf diese Weise ein Standard-Stereodreieck nach, also die optimale Hörposition, die man in einem Aufnahmestudio vor zwei Monitorlautsprechern einnehmen würde. Darüber hinaus sorgt die offene Bauweise des HD 400 PRO für eine natürliche Ausbreitung des Schalls. Beide Aspekte schaffen ein weites, räumliches Klangbild, das neutral und transparent ist. So können Audioproduzent*innen in der angenehmen Gewissheit arbeiten, dass ihre Mixes für die späteren Hörer*innen genauso gut klingen wie im Studio.
Der HD 400 PRO bietet nicht nur dem Klang genügend Raum, sondern sorgt mit seinem Tragekomfort auch dafür, dass sich musikalische Kreativität frei und ungestört entfalten kann. Ein sorgfältig entwickelter, ultraleichter Rahmen positioniert die Ohrmuscheln an der richtigen Stelle und schmiegt sich sanft und mit minimalem Druck um die Ohren. Mit weichen Velours-Ohrpolstern und dem offenen, ohrumschließenden Design sorgt der HD 400 PRO für gute Belüftung und Tragekomfort auch bei langen Mixing-Sessions.
Der HD 400 PRO ist ab sofort zu einem Preis von 249 Euro (UVP) erhältlich. Der Kopfhörer wird mit einem 3 Meter langen Wendelkabel und einem 1,8 Meter langen Standardkabel geliefert, die beide mit einem 3,5-mm-Klinkenstecker für mobile Quellen ausgestattet sind. Ein 6,3-mm-Adapter ist im Lieferumfang enthalten und sorgt für eine schnelle Anbindung ans Mischpult oder Audio-Interface.
Technische Daten
Akustisches Prinzip: dynamisch, offen
Ankopplung an das Ohr: ohrumschließend
Frequenzgang: 6 – 38.000 Hz
Klirrfaktor: < 0,05% (bei 1 kHz, 90 dB SPL)
Impedanz: 120 Ω
Schalldruckpegel: 110 dB (1 kHz, 1 Veff)
Anschluss: 3,5-mm-Klinke mit Adapter auf 6,3-mm-KlinkeGewicht: 240 g (ohne Kabel)
United Plugins presents Muramasa Audio Electrum
Details
United Plugins presents Muramasa Audio Electrum
An all-in-one single-screen guitar amp and pedalboard plug-in

Having released Electrum to widespread critical acclaim earlier this year, independent development teams federation United Plugins pushes development partner Muramasa Audio's all-in-one guitar solution straight to the desired guitar tone as Electrum Core - cutting to the chase by effectively stripping away the amazing Amp and Cabinet components from the former's effects-laden single-screen pedalboard to form an on-point plug- in with equally eye-catching attributes at its channelled creative core - as of December 1…
In today's teeming marketplace, most - even great-sounding - guitar software suffers from flawed design, doing little to enhance efficiency and comfort when put to work in a musical environment. Ergonomics is, conversely, central to Muramasa Audio executing Electrum earlier this year as an all-in-one single-screen guitar amp and pedalboard plug-in, providing its intended users with the fastest way to turn ideas into the perfect guitar sound. No need to take a deep dive through muscle memory-taxing menus in search of hidden options since everything is already accessible on one screen. Saying that, though, this all-in-one guitar solution - while wonderfully implemented - is still too complex for some, seeking an altogether more straightforward approach.
As such, stripping away the amazing Amp and Cabinet components from Electrum's effects-laden single-screen pedalboard to form an on-point plug-in with equally eye-catching attributes at its channelled creative core readily represents Muramasa Audio's answer to the question of getting straight to the desired guitar tone. Achieving a perfect sound for any electric guitar is, indeed, quick and easy when working with Electrum Core, so diving into what is on offer does not involve taking a deep dive - no menu diving required.
Featuring five versatile amps - BLUE, YELLOW, ORANGE, RED, and BLACK - arranged from lighter touch to most extreme, Electrum's Amp section is at Electrum Core's creative core. Conveniently, all share the same controls, placing familiarity at the heart of a delightful user experience enhanced further with fast workflow. While analysing the most popular amps on the market to first flavour Electrum - and now Electrum Core - with the sound of those amps, musically, Muramasa Audio added several perks to the production proceedings, allowing any user to quickly create an amp that truly meets their own needs. Needless to say, several straightforward controls are the order of the day here - namely, GAIN (controls the input gain of the simulated amp); BASS (controls the amount of the amp EQ's low frequencies); MIDDLE (controls the amount of the amp EQ's middle frequencies); TREBLE (controls the amount of the amp EQ's high frequencies); POWER AMP (defines the amount of the distortion produced by the power amp, the second stage of the amp); HIGH CUT (filters - useful for removing high frequency content, which often gets too bright and difficult to mix); BALANCE (defines the amp's tonal character); and OUTPUT (controls the output gain). Thereafter, TIGHT MODE (filters out additional low frequency content from the input); EMPHASIS FREQUENCY (allows additional customisation of the amp since pre-filtering the guitar sound itself profoundly affects the distortion character); EMPHASIS (accents the frequency determined by the EMPHASIS FREQUENCY control, which can customise the amp to truly create the user's 'own' sound); COMPRESSION (controls the amount of compression applied to the guitar tone); SAG (simulates the drop-off of the power supply voltage in response to large transient signals, so adds a certain dynamic 'feel' to the tube amplifier that is not generally found in solid-state amplifiers); LUSTER (adds extra brightness and sparkle to the sound of the amp); and CORROSION (applies 'rust', 'dirt', and analogue feel to the amp section).
Similarly straddling simplicity and creativity, Electrum Core's - Electrum-extracted - Cabinet comes complete with 16 SPEAKER sounds based on classic guitar cabinet loudspeaker measurements, customisable to produce over 300 virtual cabinets! Acting as a true virtual simulator with several parameters, including a bank of AMBIENCE responses to simulate the reflections from real cabinet surroundings, it produces a much smoother and natural sound by avoiding any unnatural resonances present in almost all classic IRs (Impulse Responses) - no need to audition any IR files in what can sometimes seem like a never-ending search for the right tone, in other words. Controls could not be simpler - SPEAKER (lets users select from those 16 predefined speaker sounds based on some classic speaker measurements to provide the basis of the cabinet sound); CHARACTER (lets users further customise the cabinet sound with those 300-plus virtual cabinets); OUTPUT (controls the output gain); TILT (makes the cabinet sound darker or brighter using a very natural tilt filter); DETAIL (adds resonances to the cabinet, the character of which depend on the CHARACTER parameter); STEREO (switches on a stereo width-producing effect - a little like using a good combination of cabinet IRs, only every combination always sounds 'good'); AMBIENCE (selects from a bank of ambience responses to add to the cabinet, simulating the reflections from the surroundings of the real cabinet); and DEPTH (controls the amount of mixed-in ambience).
A useful selection of global controls include ANALYSE INPUT LEVEL - an automatic input level setup, which makes sure everything sounds as good as possible, no matter what equipment and guitar is in use; INPUT - for cranking up the instrument's input gain (albeit should not need to be used if activating ANALYSE INPUT LEVEL); BASSMAN - for controlling the level of the 'sub' generated by the plug-in to allow for bass-like guitar-playing (albeit only works well when playing single notes, not chords); OUTPUT - for controlling the plug-in's overall output level; and LIMITER - to protect the output signal from going over 0 dB.
Well worth mentioning is the photorealistic nature of the Electrum Core plug-in's gorgeous GUI (Graphical User Interface), imbuing its users with a feeling that they are touching real-world hardware. However, it easily adapts to their needs since they can always drag the arrow at the bottom-right corner to change its size - smaller to save precious 'screen estate' or larger to make it easier on the eye and, as a result, easier to use.
Ultimately, Electrum Core provides maximum audio quality by using internal 64-bit audio processing as well as being able to handle any sampling rate - as, indeed, is the case with all plug-ins released under the United Plugins umbrella, so why not try it at 192 kHz... or even higher! Helpfully, the Electrum Core plug-in intelligently detects whether it makes sense to perform any processing at all - if not, it temporarily turns on sleep mode, meaning it requires virtually no CPU (Central Processing Unit) power at all, thereby saving computing resources for other processes.
Pushing development partner Muramasa Audio's acclaimed Electrum all-in-one guitar solution straight to the desired guitar tone as Electrum Core, independent development teams federation United Plugins has surely succeeded in bringing an altogether more straightforward approach to creating guitar tones to market as an on-point plug-in with equally eye-catching attributes at its channelled creative core.
Muramasa Audio's Electrum Core is available to purchase at an almost giveaway introductory promo price of only €9.00 EUR until the end of 2021 - rising thereafter to an attractive regular price of €49.00 EUR - as an AAX-, AU-, VST-, and VST3-compatible plug-in (using internal 64-bit audio processing capable of handling any sample rate) directly from United Plugins.
A 15-day, fully-functional trial version of Electrum Core for macOS 10.10 and newer and Windows 8/10 can be downloaded for free.
Note that no iLok, dongle, or internet access is required for Electrum Core activation. (All United Plugins software uses license files for activation and owners can freely use purchased software on all their computers as long as they are the user.)
Solid State Logic Announces Fusion HF Compressor Plug-In
Details
Solid State Logic Announces Fusion HF Compressor Plug-In
The SSL Complete Subscription Bundle Continues to Expand

Solid State Logic announces its latest Fusion-based plug-in release: SSL Fusion HF Compressor. Available now in multiple formats including VST2, VST3, AAX and AU, the latest US $199 priced SSL premium plug-in is available for the first 30 days with an introductory 25% discount or as part of the ever-expanding SSL Complete Bundle Subscription from $14.99 per/m.
As on the original Fusion hardware processor, the new plug-in affects only the frequencies above the X-OVER, and is designed to deliver smooth compression and a tape-like high frequency roll off to tame unwanted harshness that can build up in a mix, or within individual stems. The HF Compressor's ratio, attack and release controls are all optimised for maximum transparency.
Jonathan Sandman, Product Manager - SSL Studio Plug-in comments "Analogue colours and tone are at the core of the Fusion hardware, and the HF Compressor module is a key component for many owners. The gentle and pleasing analogue compression can do anything from taking the edge off overly bright mixes and masters, to soothing electric guitars and taming hi-hats. The plug-in model of the HF Compressor is an incredibly easy-to-use tool for both ITB and hybrid producers, bringing the smooth and refined sound of analogue HF rounding to the DAW workflow."
In addition to the features of the original hardware, the SSL Fusion HF Compressor plug-in also introduces new MIX and AUTO GAIN controls, which respectively allow users to non-destructively dial in the perfect amount of HF smoothing, and smooth out high frequencies whilst maintaining their level. Combined with feedback from the Gain Reduction graphs, meter and circuit activity LED from the original hardware, quickly taming harshness whilst maintaining the presence of sounds is a breeze.
Along with ECO mode for tracking and recording, which reduces latency and CPU load for tracking and recording, the SSL Fusion HF Compressor also introduces a brand-new feature of the SSL Plug-in Engine: built-in help. Simply click the question mark '?' symbol in the bottom-right hand corner and mouseover the GUI for context-aware guidance and information about the plug-in and its controls. Meantime, the Gain Reduction History graph provides users with a detailed visualization on the effect of the circuit.
Finally, the HF Compressor comes preloaded with presets from world-class producers and engineers Adrian Hall, Caesar Edmunds and Sean Devine, and also features a built-in UNDO/REDO function.
Audio Precision APx Software Release 7.0 Now Available
Details
Audio Precision APx Software Release 7.0 Now Available
New subscription model offers additional software upgrade choice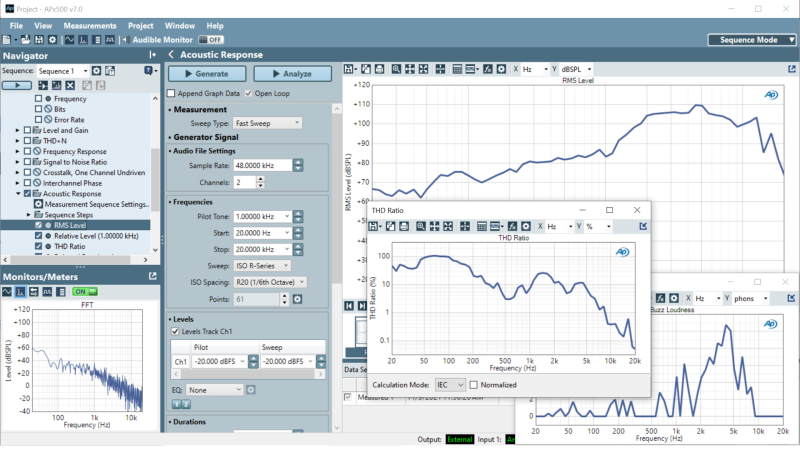 Audio Precision, part of Axiometrix Solutions, released today the latest update to APx500 audio measurement software, version 7.0, adding new enhancements suited to a wide range of audio test applications, whether analog, digital, or acoustic. In parallel with release 7.0, Audio Precision is also introducing APx500 software subscriptions, offering APx users an alternative in how they license APx software, and access nearly any software version and option.
To provide APx users greater flexibility in how they access APx500 measurement software, Audio Precision is introducing software subscriptions as an alternative to perpetual software licenses. While a perpetual software license – which grants a permanent, non-exclusive and non-expiring right to use the software – will still ship with each new analyzer, software subscriptions provide another path for existing APx users to access the latest software release and associated enhancements. Such subscriptions grant a time-limited (1-, 3-, or 5-year periods) license to use the software and provide access to all versions and all options (excluding PESQ and POLQA). When the subscription expires, the analyzer reverts to the software version and options for which it was previously licensed.
For users and organizations that prefer to retain perpetual licenses, software upgrades (SW-UPG), software maintenance (SW-MAINT), and extensions (SW-EXT, sold with new analyzers only) remain available, but only include software options purchased for a given analyzer. New hardware-based analyzers are always sold with a perpetual license, however APx500 Flex can be purchased with either a perpetual license or a subscription.
Developed by GRAS Sound & Vibration, also part of Axiometrix Solutions, SysCheck2 is a system designed to actively verify whether the sensitivity of a microphone has drifted since its last calibration. This capability is being introduced with two new ½" microphone sets: The 246AE pre-polarized free field microphone, and the 246AO pre-polarized pressure field microphone. In the first collaborative effort by the GRAS and Audio Precision engineering teams, APx500 release version 7.0 enables an APx user, in conjunction with an APx517B, APx1701, or GRAS 12Bx power module, to run SysCheck2 and receive a pass/fail indication for each connected SysCheck2-capable microphone, without the need of a calibrator or physical access to the microphone. From a microphone in production test fixture to an array of microphones in an anechoic chamber, the combination of SysCheck2 and APx allows the user to verify the accuracy of the entire signal chain without physical access or potential disruption of the test setup.
Earlier this year, Audio Precision introduced the Fast Sweep signal, an extremely fast stepped frequency sweep that provides several advantages (e.g., the ability to sweep from low-to-high or high-to-low frequency) in comparison to a logarithmically-swept sine (chirp) signal. With release 7.0, APx software now enables the use of Fast Sweep in open loop testing scenarios, such as the testing of smart speakers. Fast Sweep is the primary stimulus signal used when utilizing either High Order Harmonic Distortion (HOHD) or Rub & Buzz Loudness measurements.

Suited to anyone performing spectrum analysis, v7.0 brings several distinct improvements to the Fast Fourier Transform (FFT) analysis capabilities of APx software: Arbitrary lengths, windowless analysis, and level triggering. By allowing arbitrary FFT/DFT (Discrete Fourier Transform) lengths, users can now always find a combination of transform buffer and sample rate to arrive at convenient frequency resolution. With windowless analysis (where "Window" = None -move to bin center), engineers can perform synchronous, windowless FFT analysis on non-synchronous signals.
Power users who prefer Bench Mode, and those performing real-time adjustments on the devices under test (DUTs), will benefit from the enabling of Transfer Function in Bench Mode. In v7.0, these Bench Mode-oriented customers now have access to the Transfer Function measurement, and the complex frequency response function for a device, including the magnitude and phase (or real and imaginary components), using any broadband signal (e.g., speech, music, or noise).
"As a measurement platform, APx500 software is incredibly versatile and powerful. It is a platform we're committed to continually enhancing," stated Daniel Knighten, Audio Precision General Manager. "The release of version 7.0 is the latest demonstration of that commitment, as is the introduction of APx subscriptions which provide greater choice to users in how to access the versions that best suit their measurement needs."
New APx audio analyzers will begin shipping with v7.0 software in December. Each new analyzer includes one year of software maintenance, effectively licensing that instrument for APx version 8.0 when it is released (as well as any minor 7.x releases that occur prior to v8.0). Release v7.0 is available now for download from AP.com.
Release 7.0 is compatible with all analyzers in the APx500 Series. An APx KeyBox is required to run v7.0 on Legacy APx analyzers. APx KeyBoxes already installed on Legacy analyzers are compatible with v7.0 and only require an updated license file once an upgrade is purchased (unless they are pre-licensed for v7.0 via an existing software maintenance contract, for example SW-MAINT-3).
Song-Contest "It's your time to remix" von Thomann
Details
Song-Contest "It's your time to remix" von Thomann

Weihnachtslieder sind schön, keine Frage … Aber wie wäre es mal mit einem Black-Metal-Cover von Stille Nacht? Schnapp dir dein Instrument, einen Camcorder (oder dein Smartphone) und los geht's: Thomann will den puren Weihnachtswahnsinn in deinem Kopf hören! Alles, was du tun musst, ist ein Weihnachtssong neu zu mischen bzw. neu zu arrangieren, indem du einen Song aus der Liste unten auswählst. Du nimmst den gewählten Song in einem der unten genannten Genres auf. Zeichne den Song auf und teile deine Kreation sie auf deinen Social-Media-Account. So hast due die Chance fette Preise abzusahnen.
Mehr Informationen gibt es auf der t.blog unter diesem Link.
Eine Jury kürt die originellsten, kreativsten Beiträge. Das Gewinnspiel endet am 19. Dezember 2021 um Mitternacht.
Innovationspreis "TOP 100": Ranga Yogeshwar ehrt SAE Institute
Details
Innovationspreis "TOP 100": Ranga Yogeshwar ehrt SAE Institute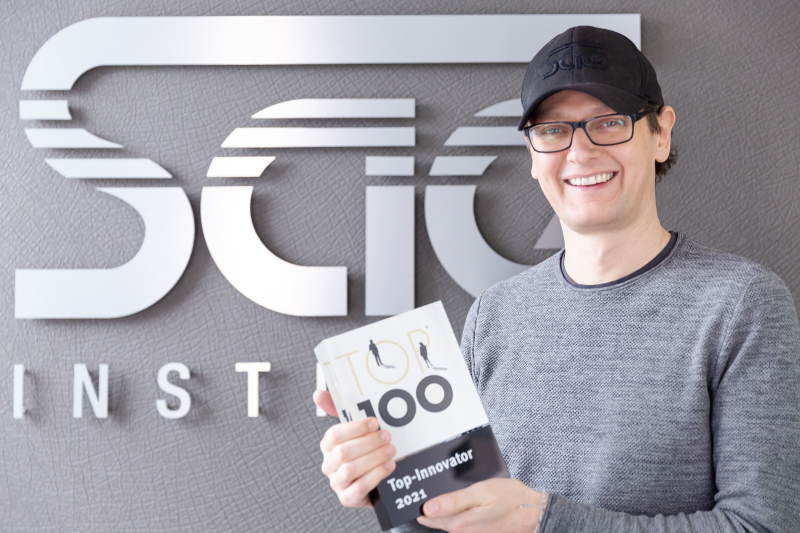 Das SAE Institute wurde beim Innovationswettbewerb "TOP 100" ausgezeichnet. Die Ausrichter des Preises küren das SAE Institute damit zu einem der innovativsten Mittelständler und Ausbildungsunternehmen Deutschlands. Aufgrund der Corona-Pandemie fand die diesjährige Preisverleihung am Freitag, den 26. November 2021, online statt. Dabei würdigte Ranga Yogeshwar, Wissenschaftsjournalist und Mentor des Innovationswettbewerbs, das SAE Institute mit einem persönlichen Videogruß. In dem wissenschaftlichen Auswahlverfahren des Preises beeindruckte das SAE Institute in der Größenklasse C (mehr als 200 Mitarbeiter*innen) besonders in der Kategorie "Innovationsklima". Das Video zur Auszeichnung ist auf YouTube verfügbar.
Der Innovationswettbewerb TOP 100 ist die wichtigste Auszeichnung für innovative Unternehmen im Mittelstand in Deutschland. Das SAE Institute überzeugte das Team um den Innovationsforscher Prof. Dr. Nikolaus Franke von der Wirtschaftsuniversität Wien, das im Auftrag von compamedia den wissenschaftlichen Wettbewerb TOP 100 durchführte, mit zahlreichen innovativen Konzepten. Die Bewertung erfolgte anhand 120 Prüfkriterien in den Bereichen innovationsförderndes Top-Management, Innovationsklima, innovative Prozesse und Organisation, Außenorientierung, Open Innovation und Innovationserfolg. Außerdem wurde die unternehmerische Reaktion auf die Coronakrise bei der Bewertung berücksichtigt. Die Auszeichnung TOP 100 wird seit 1993 vergeben.
"Zu den Top 100 zu gehören macht uns sehr glücklich und ist eine große Motivation für das gesamte Team. Die Auszeichnung ist eine großartige Anerkennung für viel Leidenschaft, Mut und Kreativität, die wir in den letzten Jahren als Team investiert haben, um unseren Studierenden das Beste zu bieten", so SAE-Geschäftsführer Chris Müller.
Das SAE Institute zählt zu den größten Bildungseinrichtungen für Medien- und Kreativberufe weltweit. An 54 Schulen in 28 Ländern wird in den Fachbereichen Audio, Games, Music Business, Film, Animation, Content Creation & Online Marketing, Web und VFX ausgebildet. Von der Innovationskraft am SAE Institute profitieren vor allem die Studierenden. Im Mittelpunkt steht ein digitales und hochflexibles Lehrkonzept, basierend auf Vorlesungen im Livestream oder On-Demand, praxisnahen Projektarbeiten und On-Campus-Events mit Dozent*innen. So konnte das SAE Institute umgehend und ohne Unterrichtsausfall auf die Einschränkungen durch die Corona-Pandemie reagieren. Im ersten Lockdown wurden binnen eines Wochenendes 180 Vorlesungen auf Streaming-Formate umgestellt. Keine einzige Vorlesung fiel aus.
Wie zeitgemäßes Studieren aussieht, zeigt auch der neu eröffnete Campus 4.0 in München. Das offene Innovationsklima am SAE Institute fordert Studierende und Dozent*innen gleichermaßen dazu auf, neue Prozesse anzustoßen und auszuprobieren, um sie dann später zu implementieren. Auch das neue Studienmodell "Studien+" unterstreicht die Innovationskraft am SAE Institute und gibt den Studierenden mehr Flexibilität und Selbstbestimmung. Dazu zählen ein flexibler Wechsel zwischen den SAE Standorten in ganz Deutschland, zusätzliche Gasthörer-Optionen in anderen Fachbereichen, Vorlesungen in deutscher und englischer Sprache und ein neues, ergänzendes Zusatzmodul aus einem frei wählbaren Fachbereich.
Waves Now Shipping the Retro Fi and Lofi Space Plugins
Details
Waves Now Shipping the Retro Fi and Lofi Space Plugins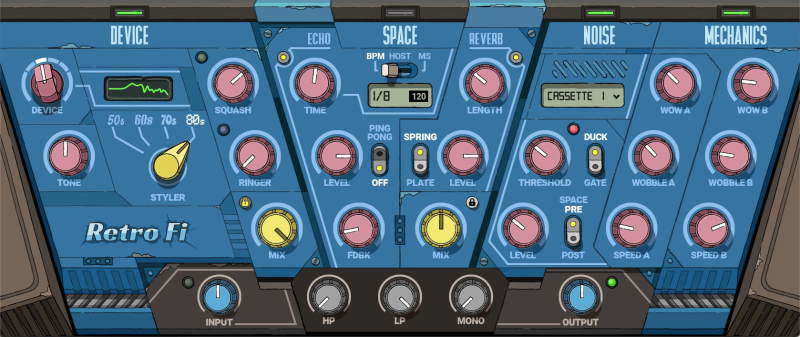 Waves Audio, a developer of professional audio signal processing technologies and plugins, is now shipping Retro Fi, the ultimate lofi FX chain. This announcement follows the recently released Lofi Space (a unique reverb and echo combo plugin) that was given away free, only during Black Friday and Cyber Monday.
Waves Retro Fi provides everything you need to produce authentic lofi textures, warm analog sounds, and mesmerizing nostalgic vibes, like vintage cassette tones and deep vinyl grooves. This plugin includes a massive palette of lofi noises, spaces, devices and textures. Retro Fi has what it takes to breathe life into the dullest synth line, drum break, vocal adlib or instrumental track.
Waves Retro Fi offers you four modules/sections that you can combine, each with its own flavors:
Device is a complete analog coloring and tonal shaping engine, armed with newly designed impulse responses, an era-specific Styler for 50s/60s/70s/80s retro tones, a squasher, a colorful compressor to add life to instruments or vocals, and more.
Space adds saturated echo and analog reverb (spring/plate) for colorful depth and bold spatial sounds.
Noise boasts a massive library of over 60 unique textures, including diverse cassette and vinyl noises among many other surprises. Its smart noise generation algorithm ensures that the textures you add are lively and ever-changing, never repeating themselves like a pre-recorded loop.
Mechanics delivers the beautiful imperfections and mechanical wear & tear of old cassettes tapes and vinyl records. This section has two independent modulation engines, each with its own adjustable wow, wobble and speed.
For instant gratification, users can flip through 250 artist presets, curated by top producers and beat makers in hip hop, electronic genres, rock and beyond – including producers for Kendrick Lamar, Mac Miller, Dr. Dre, Dua Lipa, Post Malone and many more.
Retro Fi doesn't just stack various random FX onto your tracks; it is designed to act and feel like a true, living, breathing analog device. The four sections are built serially, while also internally routed, so they act together like a singular unit. The result: better-matched sounds that feel organically glued, without the artificial feel you sometimes get when adding a digital lofi effect. Instantly vintage, timelessly classic – Retro Fi is the first choice for true analog lofi sound.
Retro Fi Features:
Everything you need to produce authentic vintage lofi sounds
Massive menu of lofi noises & textures
Diverse cassette & vinyl sounds
Analog device impulse responses for versatile analog tones
Two independent Wow & Wobble engines
Era-specific 50s/60s/70s/80s Styler
Lofi-flavored analog reverbs & echo
Squash control for upwards and downwards colorful compression
Smart noise generator for ever-changing textures that never sound like a pre-recorded loop
Master section with HP/LP filters and a Mono slimmer
Carefully matched FX chain for organically "glued" analog character
Waves' recently released Lofi Space plugin is the perfect effect for those attention-grabbing ear candy moments. With bright saturated delay and two flavors of analog-based spring and plate reverb, Lofi Space lets you add splashes of vintage 'verb color and bold analog echo to your tracks. With this plugin, you can create deep, gorgeous lofi-tinged effects instantly with no tweaking needed, suited for any production in need of that vintage touch.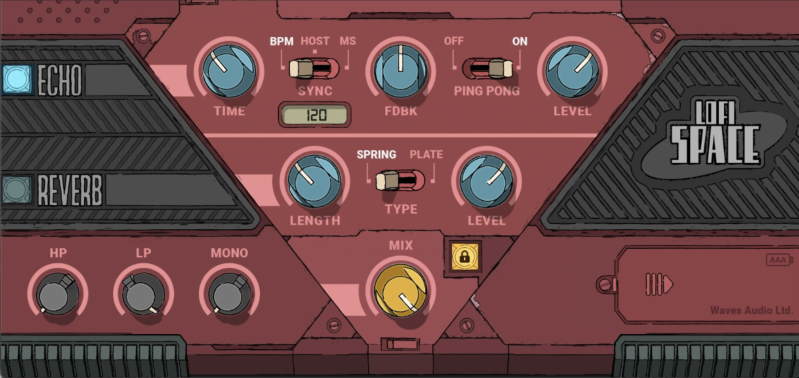 Above all else, Lofi Space brings you character. Some reverbs and delays are there just to be felt. Waves Lofi Space is meant to be heard. It's the effect you'll be reaching for when you want to stop being polite with your sound – when you want a lofi-inspired signature sound that delivers a bold, dynamic statement in your production.
In addition to Spring and Plate reverb tones; the ECHO button enabling delay sync to BPM, host or milliseconds; adjustable echo feedback and more, Lofi Space also gives you a MONO control, letting you narrow the stereo field of your samples or live instruments to faithfully mimic the sound of old mono records.
Whether used as an insert or on an independent FX channel, Lofi Space is a surefire way to spice up your game and start using reverb and delay for what they are – inspiring instruments in their own right.
Waves Lofi Space features:
Lofi-style reverb and delay plugin
Two analog reverb flavors: Spring and Plate
Saturated echo synced to BPM, host, or milliseconds
Adjustable echo feedback
Stereo ping-pong toggle for the delay
Individual on/off for the reverb and the delay
Stereo field slimmer for a more vintage sound
Mix knob with lock-mode for safe mixing
Waves Retro Fi and Lofi Space plugins are included in Waves' Mercury, SD7 Pro Show and Pro Show bundles.