IK Multimedia releases SampleTron 2 for iPad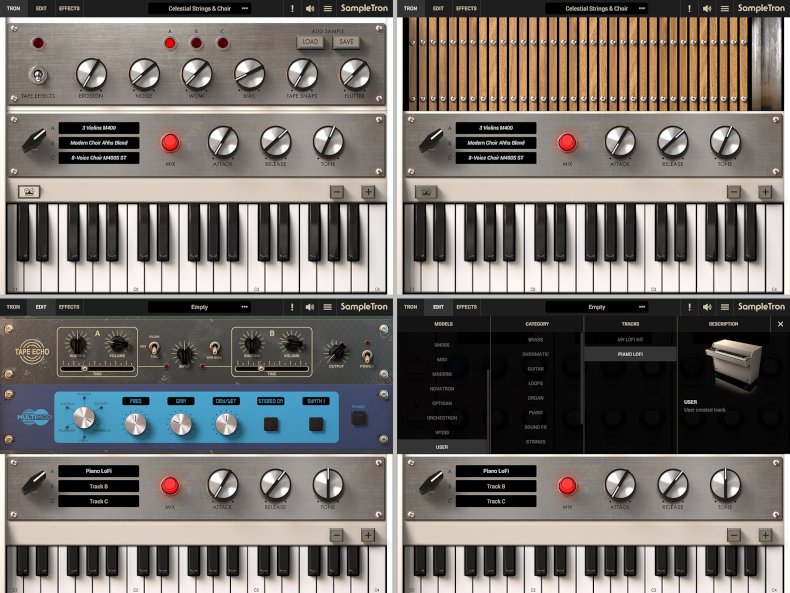 IK Multimedia releases SampleTron 2 for iPad, combining the powerful sound engine of award-winning SampleTank with IK's industry-leading tape modeling technology to recreate the distinctive, ultra-vibey sounds of tape-based samplers from the '60s and '70s, along with quirky early digital sample players and vocoders.
Ready for iOS 15 and designed to fit the form factor of the iPad screen, this comprehensive collection offers immediate support for all iPad model sizes and AU Host apps. The UI design is based on the desktop counterpart with a user-friendly approach that's custom-tailored for mobile music production and performance on the iPad.
SampleTron 2 for iPad comes with a vast library of over 400 "tracks" that can be loaded into any preset-up to 3 at once-and then individually processed with IK's cutting-edge tape modeling DSP for ultimate tone-shaping flexibility.
While an extensive collection of new, original samples of vintage Mellotron and Chamberlin are included, SampleTron 2 for iPad also shines where it processes non-Tron material. Here users will gain access to exciting new sounds with the choir, strings, brass, organ, piano, bass, and even synths and vocoders that all come included.
Also included are vintage digital sample-based instruments such as the Mattel Optigan, Vako Orchestron and 360 Systems Digital Keyboard for more creative options than any other Tron collection. In addition, users will find the full content of the much-revered original IK SampleTron product.
Sounding better than ever, SampleTron 2 for iPad looks the part with a gorgeous interface that's true to the original instruments. All 11 models are gloriously detailed and designed to offer the immersive experience of using actual vintage gear right on an iPad, even to the point of exposing their inner workings, all while maintaining uniform ease of use and functionality across the board.
All controls are intuitive to use with old-school looks on top of some ground-breaking engineering. Like the original Mellotron hardware, there are three available tracks for each preset. Users can load any of the included tracks without having to fudge the track selector to combine them.
In addition to the included library, 'Tron characteristics can be applied to any sound. User samples can now be easily loaded and mapped to take full advantage of the tape processing sound using IK's tape modeling technology. A panel of global controls along with six tape controls let users dial in exactly the right mood.
To fine-tune the sound further, SampleTron 2's edit mode lets users dive deep into the preset parameters with controls for volume, pan, fine tune, transpose and high and low note range for each Track. Additional synthesizer-style controls include a filter with selectable type and an amplitude envelope with velocity control for each track individually or all tracks combined.
SampleTron 2 for iPad includes a powerful set of effects. Effects include a Channel Strip equalizer and compressor, Tape Echo, Multimod-with selectable chorus, ensemble, flanger, phaser, Uni-V and Rotary Speaker-and the new Vintage Plate Reverb that's based on the Plate algorithm developed for AmpliTube 5.
SampleTron 2 for iPad works as a standalone app or as an AUv3 instrument plug-in. Use it with popular AU host apps such as GarageBand, Cubasis, AUM, Beatmaker, Auria and more. It also supports MIDI learn and standard MIDI keyboard control for nearly all its functions.
Take control of the SampleTron 2 app with any compatible MIDI controller and use an iPad as the brains of a portable Tron module.
SampleTron 2 for iPad is now available on the App Store for a limited-time introductory price of $69.99 (regular price will be $99.99).